Readers, read at your own risk.
 Okay, that sure was a brutal chapter. That ant gave too many chills. What can we expect from a high tier soldier ant supposedly the ant king? Getting into the chapter we saw Min Byeong's abdomen pierced by the pincers of the ant. Then he cries for Baek and others to run. The ant was not satisfied with this so it ingested Min and then we get to see its real abilities. He started speaking with them all in their native i.e. Korean language. Thus, we now know that this ant has the ability to gain knowledge from digesting its prey. It would be interesting to watch what happens when this ant collides with Sung.
So the conversation goes like this ant asked Baek after nearly crushing him, "Who is your king?". Baek was back to his human form and others were nearly dead especially Cha Hae In being unconscious. Now, as ant conversed with Baek we observe him trying to regain his composure and thinking about how the ant conversed? His thinking is short-lived and immediately he yells "Outside..". The ant sensed stronger ones outside, guess who? Good old Goto San. Ant disappeared and went straight outside.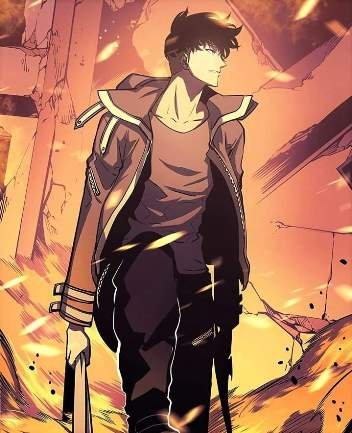 Baek was still trying to regain his senses and his immediate thought was to escape with the others. Surprisingly, their peace is short-lived as the swarm of ant invades again. On the other hand, Goto with his team still searches for his comrades. Only "Bravo" being alive and so he speaks with the president Matsumoto about how his team is dead. Although we see him acting cold and ruthless in front of the president not caring about his teammates. Later on, when the ant strikes them, we see him telling them to go. And as expected the fight between ant and Goto is very short. The conclusion Goto dies.
This chapter also introduces a Chinese ship in which the captain of the ship mentions Liu Zhigang the national level hunter of China. He mocks saying capabilities of Goto won't be enough. Meanwhile, what do you all think would have happened to the Koreans? Well, at last, we see Sung Jin-Woo in the picture. As expected, we have a shadow exchange. Now it is obvious that a showdown would happen between the ant and Sung. But what other surprises will his arrival ignite? Will we see some hidden abilities? What about the "ARISE" scene.
Till then stay tuned and enjoy winters. Blast your theories into the comment section. The next translated issue releases mostly on 8th January.