SuperCell has released two major strategy video games; Clash of Clans and Clash Royale. Both of these games turned out to be highly successful and received good appreciation from the players. The developers released frequent updates to make sure that both of the games remain and relevant and engaging.
However, one thing that the developers missed out to add in Clash Royale, was the scope of fast maximization of decks. The absence of any medium to boost the cards created a frustrating scenario for the Clash Royale players. One alternative was to spend a large amount of gold to upgrade the cards. The players had to be careful on which cards they were spending their gold on, to avoid their expenditure turning out to be a waste. The higher their card level reached, the more they had to spend. But looks like this irritating issue is now on the verge to be resolved.
The developers of Clash Royale have released a new feature into the game, that seems to be the exact solution we all were looking for. The newest introduction to the game is, The Magic items!
Magic Items
Magic items are consumables that can be used to boost or progress cards. It can be also used to open Chests. These items have been added to speed up the mobile game's progression.  There 5 new types of Magic items, each having a unique functionality. The 5 new Magic items include Wild Cards, Book of Books, Chest Keys, Book of Cards, and Magic Coins.  We will be talking about one such item, the Chest Key.
What is Clash Royale Chest Key?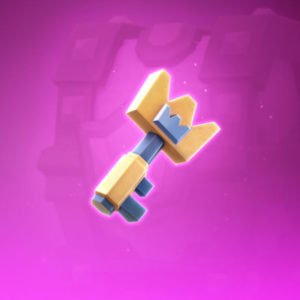 One key element of the Magic items is the Chest key. This magical Chest Key will instantly unlock any locked chest in your Chest Slots.
Where to get Clash Royale Chest Key?
You can obtain the Chest Key from the Pass Royale, Trophy Road, Global Tournaments, Special Challenges, and from the Shop.
Check key in Free Rewards :
Free rewards (Arena 7+)
Free rewards (Arena 4-6)
Check key in Pass Royale Rewards :
New Pass Royale rewards (Arena 7+)
New Pass Royale rewards (Arena 4-6)