Hello Gamers, so all those who have played Racing games would be familiar with the NASCAR Heat series. So for anyone who is new to this, it all started with the introduction of NASCAR Heat Evolution which was released back in September 2016.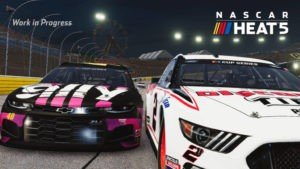 It was developed by Monster Games and published by Dusenberry Martin Racing. It was welcomed warmly by the gamers who were now able to feel the thrills and experience the fast and adrenaline rushed NASCAR Races.
After the success of the first Nascar heat game, the developers saw the immense potential of this series and genre of the game so we got to see the next parts of this game series namely being, NASCAR Heat 2 which came in 2017, NASCAR Heat 3 in 2018, NASCAR Heat 4 in 2019 and NASCAR HEAT 5 is the latest edition released in 2020.
So, below we have mentioned what were the key features that seemed to be missing from the NASCAR Heat 5 and also what other new aspects we would love to see with the new installment.
1. STORYMODE
Though Heat 5 had various types of game modes and a decent storyline, yet it did not stand up to the mark and we expect more vivid and immersive gameplay with a better storyline in the next game.
2. WRECKAGE
Even after a collision of small or high intensity, the damage is quite the same and the body of the car does not get more than some scratches and dents. We expect to see more damage and realistic experience same as in real NASCAR Races.
3. NOT A CHARACTERISTIC ADDITION
There wasn't any significant addition that makes NASCAR Heat 5 stand out of the series. It's just that 704 Games pumps up the features from the last edition.
4. SOME MORE ADDITIONS WE WOULD LIKE TO SEE
Ray Tracing
Multiplayer modes
More Cups and tournaments
New Stadiums and cars
We can expect a load of visual improvements, thanks to the next generation consoles like PS5 and Xbox series X. These machines are just pushing the boundaries to infinity.
As per the release dates are concerned, there is no confirmed date and nothing is announced by the officials as of now. But there are also leaks that developers may also change the game's name and maybe start a new series but these are just speculations and rumors at last.
🙂 GAME ON