Knowing a game's save file location is quite critical for gamers. It helps to keep a backup of the saved game files and can also come in handy if one wants to move the saved file to another device or location. Moviehouse is the newly released movie-making simulation game from Odyssey Studios and Assemble Entertainment and many players wonder where is the Save File Location of this game. If you are also playing this title and want to know where the game stores its saved files on your PC, then you are at the right place. Read this guide till the end to find out everything about this topic.
Moviehouse is a strategy and simulation game that allows you to test your creativity in the movie-making field and also lets you fill up your bags with profits through the box office. So, if you are the one that possesses creativity and business skills, then this is a must-play game for you. Initially, you start slow with a small crew and gradually grow up to create a series of blockbusters. Choose your favorite genre wisely as you don't know what genre is about to get hit in the box office. In this progressive game, it becomes more crucial to have a backup of the saved game files. So coming to our main topic, here is everything you need to know about the game's Save File location.
Moviehouse Save File Location
For Microsoft Windows, the save files are typically stored in the following directory: C:\Users\*Your Username folder*\AppData\Roaming\Moviehouse\saves. If you are unable to access the save files directory, then here are the steps you need to keep in mind-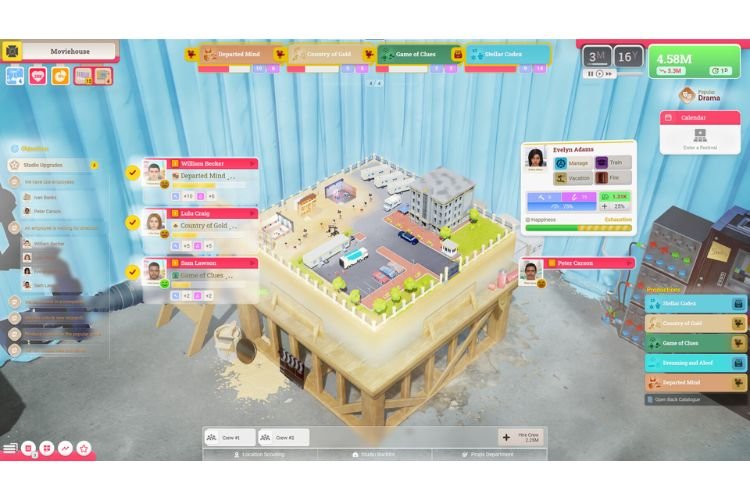 The *Your Username folder* line in the file path should be replaced with your actual username on your PC.
If you are not able to see the AppData folder, it is because it is hidden by default. To make it appear here, you must go to the View option at the top and select "Show Hidden Files". After that, the AppData folder will appear and you can proceed ahead. If you want to skip this step, you can also manually type "\AppData" in front of your username on the Address bar.
Keeping a backup of your game files removes the stress of losing progress in the game, in case of any mishaps. It is always a good practice to store a copy of the saved game files in another folder or directory on your PC. It is also beneficial if you are planning to shift the game to another PC. In that case, you can copy the file and then move it to the same directory on another PC. However, if you wish to remove all the progression and start your journey from scratch, you may delete the saved game files.
Anyways, now you know where the save file location of Moviehouse is. If you found this guide helpful, share it with your friends.
Related: Crime Boss Rockay City Save File Location: Where is it