Mortal Kombat 11 is a fighting game published by Warner Bros. Interactive Entertainment and produced by NetherRealm Studios. It is the eleventh main component in the Mortal Kombat series and a sequel to 2015's Mortal Kombat X. It runs on a highly altered edition of Unreal Engine 3. This game was released in 2019 on all top gaming consoles including, PlayStation, Xbox, Nintendo Switch, PC, and Mac. The game has been facing many errors recently. One of them is the Mortal Kombat 11 content validation error. If you are facing this error too and want to fix it, we have some solutions in this blog for you.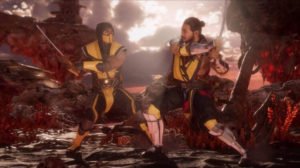 About the game
Mortal Kombat 11 is a 2.5D fighting game, like the prior three entries in the series, including MK Mobile. Along with the returning Fatalities, Brutalities, Stage Fatalities, Friendships, and Qualities, new gameplay mechanics such as Fatal Blows and Krushing Blows are introduced.
A Flawless Block mechanic, which allows players a comeback window after stopping an attack with precise timing, is also unique to the series. Mercy, which was previously seen in Ultimate Mortal Kombat 3, is another returning finisher in which the winning player can choose to resurrect their opponent, granting them a little amount of life.
What is the Mortal Kombat 11 content validation error?
After every new update to the game, Mortal Kombat 11 shows this error on the screen. It is not a serious error, though very nerve-wracking for the users.
The error says that the game files are corrupt and integrity needs to be verified.
How to fix the Mortal Kombat 11 content validation error?
As there are no patch updates available for this particular error, there is only one fix that helps.  
Verify Integrity of Game file
As given in the error message, game files might be corrupt and hence their integrity needs to be checked.
First of all, go to Steam and right-click on the game.

After that go to the 'Properties' option.

Then navigate to the 'Local Files' option.

After that, click on 'Verify Integrity of Game Files'.

This might take a few minutes, so be patient.