In recent years we have witnessed amazing innovations in smartphones. Smartphones these days come with endless possibilities. It is hard to imagine on our part ho powerful and capable smartphones have now become. Rooting is popular among the Android community and tech-savvy freaks. In case you don't know, Rooting gives use the root user permissions to pretty much do anything with the device. It lets us even use a different OS or even a kernel. Sounds interesting, right! Well Yes, Custom ROMs are perhaps the most amazing part of rooting. While you don't require to root your device but you still need to have an unlocked bootloader and a custom recovery to flash a custom ROM.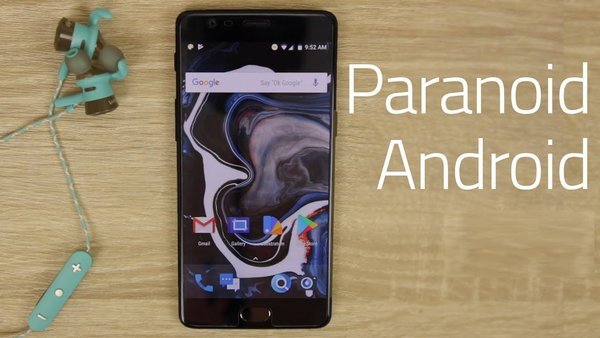 Custom ROMs offer you all those features and services that you can never get on the stock OS. It also lets you have the option for tons of tweaks and customizations to make your device look the way you want. One more thing to note is Custom ROMs bring home Android updates that are not officially available for any device. These days the list of available Custom ROMs has gone pretty big. Thanks to the amazing developer community support behind these amazing custom ROMs. Some popular custom ROMs include LineageOS, ResurrectionRemix, Pixel Experience AOSP, Paranoid Android and many more.
Paranoid Android Quartz 1:
Sometimes back Paranoid Android was one of the most loved and widely used Custom ROM. This was because of all those innovative and cool features it came with by the time of its release. This Custom ROM also brought a whole new look and UI design altogether which was a real deal back then. Owing to all this and its several other interesting features Paranoid Android gained immense popularity in no time.
However sometimes later the developed team of this ROM grew diminished in number due to some reasons back then. This led to the team not being able to be so active in comparison to developers of other ROMs. As a result of which, this custom ROM remained slightly dormant for some time and lost some of its popularity. Despite this fact, the team is now working again and delivering the latest builds of the ROM. Seems like the ROM is rising back again to popularity. The Android 10 Beta build of the ROM was released around October for the first time. It came with tons of amazing features and a beautiful UI design.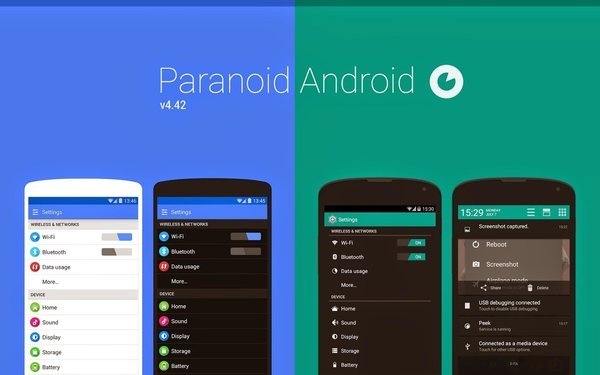 Users loved the ROM and appreciated their work. Well, not the team has officially released the stable Android 10 builds for a huge number of devices. This update is called the Paranoid Android Android Quartz 1 Release. This is finally a major stable build of the ROM since the team had been delivering only beta updates for quite a long time until this one. Well, to start the count the ROM comes with tons of amazing features. Below is the complete list of all those interesting features.
Paranoid Android Quartz 1 Features:

Included GAPPS inside the zips.
April 2020 Security Patch Level.
OTA support (with deltas).
Adaptive Playback.
Screen stabilization (Gimbal mode).
SafetyNet (most devices).
Built-in screen recorder.
FOD support (Fingerprint On Display).
Pulse notifications.
ParanoidDoze: extended AOD support
Off-screen gestures.
Gestures support.
Vibration adapted UI.
Extended vibration system (OnePlus devices).
Alert Slider UI (OnePlus devices).
OTS: On The Spot, introduce user hint prompt system, uses a snack bar design to prompt the user for changes.
Pocket Mode, introduces a mode that will detect whenever your device is on the pocket and prevent it from waking.
New Fast Charging indicator (includes OnePlus devices).
Quick Settings Pull Down with one finger.
Extended Restart.
Introduced Settings reset for PA features under Settings → System → Reset Options.
Double-tap to sleep on keyguard (lock screen) and launcher.
Volume Long Press to Skip Tracks.
Volume panel on left for devices with left volume buttons.
Adjusted status bar notifications per device.
Navigation bar customization.
Improved lock screen security
Caffeine tile (thanks LineageOS).
Extended screenshot support (thanks to Pixel Experience).
Per-app cellular data, VPN and wifi restrictions.
Three-finger swipe gesture for screenshots.
Pop-Up camera support.
Based off CAF LA.UM.8.2.r1-04200-sdm660.0 tag.
Well, it's a pretty long list for features. So, if you want to get your hands on all these amazing features that come with this ROM. You can download the ROM from the links given below for your device and flash it using a custom ROM.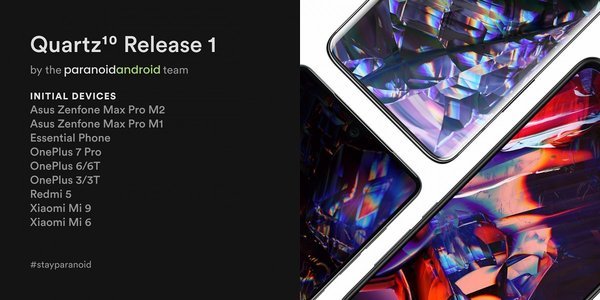 Download Paranoid Android Quartz 1:
These are all those devices that currently support the Paranoid Android Quartz 1 Stable release. If your device is in the list given below you can download the ROM and start using it.
While these were the currently supported devices there is another waitlist of devices that will soon be getting the stable builds as well. Here is the list of all those devices that will be soon getting the ROM as well.
OnePlus 5 and 5T
OnePlus 7, OnePlus 7T, and OnePlus 7T Pro
POCOPHONE F1
Sony Xperia XZ2 and Sony Xperia XZ2 Dual
Xperia XZ2 Compact and Sony Xperia XZ2 Compact Dual
Sony Xperia XZ3 and Sony Xperia XZ3 Dual
Mi 9T and Xiaomi Redmi K20
Xiaomi Mi 9T Pro and Xiaomi Redmi K20 Pro
So, be happy if your device is listed in the second list above. If not, there's nothing to worry about because the team of Paranoid Android ROM is working to bring the ROM to more devices. We expect that gradually they will add support to more of other devices as well.
Stay tuned for further updates on Paranoid Android ROM. Also, share this article with all those people who wanted to flash such an amazing custom ROM.