While smartphones these days come with better software and some cool features, custom modifications will always have its own craze. The domain of rooting and modifying android smartphones to get better features has become larger than it used to be. Today, there are many developer communities that support various devices. Now, there are a lot of custom developments for various devices out there. There are also tools that help in easily flashing and performing other useful tasks for smartphones.
The number of such tools is huge. Mobile Uncle Tools is one of them. Mobile Uncle Tools is one of the best apps for Mediatek devices. It comes with a huge list of features and a lot of other amazing stuff. The best part is you don't need a PC to perform all these tasks. The tool is directly available for smartphones. Isn't that cool, huh?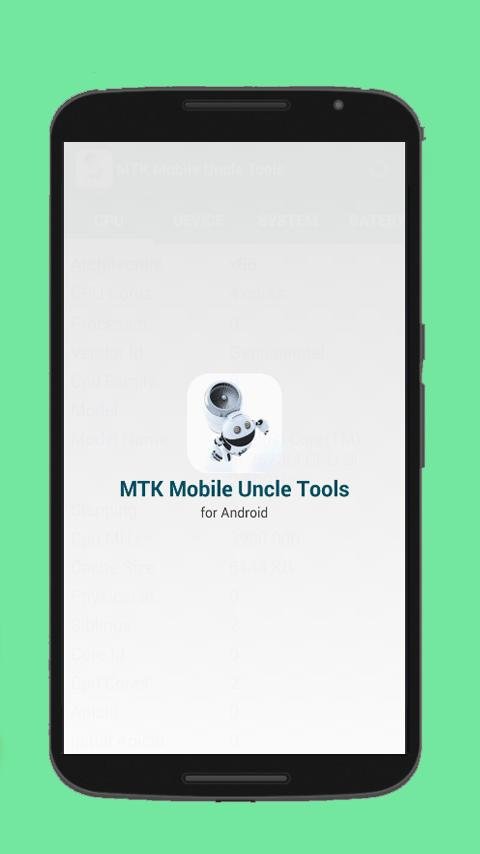 Mobile Uncle Tools:
Currently, there are a lot of flashing tools available for smartphones. However, almost all of them are available as computer applications. These can either run on a PC or a Mac. But, have you ever heard of an app for smartphones with all these features. We know you have been looking for it. Well, Mobile Uncle Tools is exactly the thing you have been looking for all this time. Mobile Uncle Tools brings home all the features like flashing recoveries, backing up and restoring IMEI, booting into recovery, updating the stock firmware and recovery, and a lot more. You get all these features right on your phone with Mobile Uncle Tools. Mobile Uncle Tools app is only meant for devices running on Mediatek chipsets.
These are just a few of all those useful features. The app itself comes with a lot of other such amazing features that come in handy at times.
Mobile Uncle Tools Features:
The tool itself has a lot of useful features. Apart from unlocking the device, it also offers several other features that come in handy. Here are some of the most useful features the tool offers.
Device Info: The option allows you to check out all the possible info about your device. You can information about anything including stuff like CPU information, IMEI information, Kernel Information, Screen Information, OS Information, Mount Status, MTD, ROM Memory, RAM, Built Information, and SD Memory.
Engineer Mode: As the name suggests, this mode allows you to engineer and modify IMEI, test tools, and also adjust or change various settings on your Mediatek devices.
Update Stock Recovery and Firmware: You can easily update the stock recovery of your device using this tool. The firmware of the device can also be updated to the latest possible version. Not just that, this also lets you search for and recovery and flash it on your device.
Backup and Restore IMEI: The tool also allows you to easily backup the IMEI of your device. It further also helps to restore the backed up
Boot easily into Recovery Mode: The tool lets you boot into recovery mode easily just with the simple tap of this feature. You don't have to keep using the hardware key combinations to boot into the recovery mode.
Power GPS Search: The tool can also fix your broken GPS settings and get it working easily in no time at all.
Move apps to SD Card: The tool can easily help you transfer all the apps on your internal memory to the SD card on your device.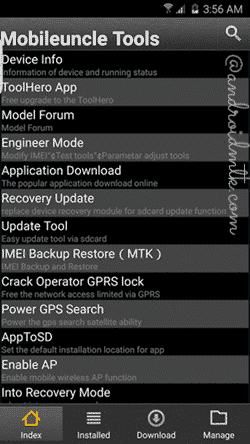 Download Mobile Uncle Tools 2020
You can easily download and install the latest version of the Mobile Uncle Tools on your Mediatek device. The latest version comes with the version v3.3.0 and has a lot of useful features. You can download the latest version of Mobile Uncle Tool from the link given below and start enjoying all those useful features on your device. What are you waiting for?
| | |
| --- | --- |
| App Name | Mobile Uncle Tools APK |
| Version | 3.3.0 |
| Size | 1.28 MB |
| App Features | Device Info/ Flash recovery |
| Last update | Feb 2020 |
| Compatibility | Android 4.0.2 and up |
Download the Mobile Uncle Tools Apk from the link given below.
Download mobile uncle tools v3.3.0
Once you download the apk file from above, you just need to install it as you would typically do for any other apk. (You may have to allow some permissions to install the app from external sources)
Now, once the app gets installed, just open it from your home screen or app drawer and start using all the amazing features on your device.
That's it. Voila! Now, you can go ahead and start using the app with all those pretty useful features. There's a lot to explore. What are you waiting for? We know you had been waiting for such an amazing app. You would need nothing more. Just enjoy the features to the fullest as much as you want. Cheers, Peeps!!
Stay tuned for further updates on the latest Mobile Uncle Tools apk and more such related content. Also, share this article with all those people who have been waiting for such an amazing app.
---
SEE ALSO: