Xiaomi's MIUI 12 promises to be the advent of a feature rich era of smartphones complementing the OS systems brilliantly. The new skin from Chinese manufacturer has gained hefty coverage already. Most brands have started rolling out their new generation of UIs. Hydrogen OS 11 from OnePlus has also generated a lot of excitement amongst smartphone enthusiasts. Loads of features are debuting with MIUI 12 but today we talk of something that would do Xiaomi one better. In the recent past, users have demanded that their smartphones catch up in terms of health monitoring and vital tracing. Well, Xiaomi says wish granted with the introduction of an improved health and fitness service, that requires no extra hardware. Are you ready to let MiHealth work its magic?
MIUI 12 Xiaomi Heart Rate detection through MiHealth
MiHealth in its inception stage was a fairly simple app. Sleep monitoring, tracking menstrual cycles, counting steps etc. were amongst its effective features. The big takeaway from MiHealth once your phone welcomes MIUI 12 would be the heart rate detecting capacity. The accuracy of this could only be really commented upon after multiple uses. But the fact that Xiaomi is bringing this to us, at no extra cost of equipment is appreciable. The new MiHealth has various presets for you that are customized concerning various exercise states. A self-developed local AI would be at the heart of this system, gauging accurate figures.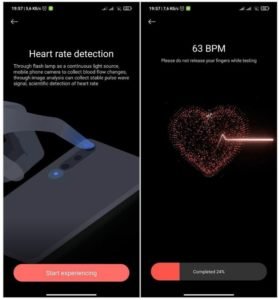 Those of you wondering how this actually works, Xiaomi would be able to achieve this feat through their camera assembly. The flashlight would be the key here. From what has been revealed, first thing would be to select the Pulse option in MiHealth. A metric bar should be displayed after this. This bar would proceed towards 100% completion once you cover your flashlight with your index finger. Once the process is completed you will receive an accurate measure of BPM. If you await the MIUI 12 Stable ROM update then check the Update Tracker here!