A game with a platform to show creativity called "Minecraft" is now available with a new mod called Genetic Animals version 0.6.29. in this article,  you will find all the new content and customization of the game, which character has been introduced, what is different about this mod. 
Markus "Notch" Persson founder of Minecraft created by Mojang Studio officially released it on 18 November 2011. This sandbox construction game is available with more than five game modes like survival, creative, hardcore, adventure, spectator, and demo. The best-selling video game of all the time with more than 200 million sold copies gathered magnificent attention of the people.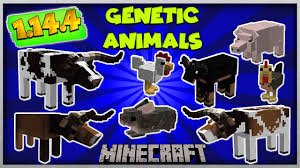 Minecraft mod Genetic Animals Version 0.6.29
With more than 206,307 downloads and still counting. "Mokiyoki" released the new mod of Minecraft Genetic Animal version 0.6.29 on March 8, 2021. All the details of new mod are mention below:
Mod name:  Genetic Animals 0.6.29
Game Version: 1.16.5
Mod size: 9.89MB
Creator: Mokiyoki
Download Link by Curseforge : Download
Main features of Genetic Animals:
In this mod, the offspring acquires all the genetic traits of its parents when it makes the reproduction of two animals, variation in size, hair color, egg, skin, texture all determined by their genes.

You can add depth to genetics.

Introduced Some models that are improvements over Vanilla.

 New Gameplay mechanics added to the animals.

Enhanced AI to have the animals behave more lifelike.

Chickens can lay hundreds and hundreds of different egg types and colors, all genetic!

Male and Female animals with editing options.

Cows have genetically calculated dynamic horns that grow with age.
What's new in Genetic Animals version 0.6.29?
Version 0.6.29 introduced some new features in Genetic Animals and also fixed the bug from the last version. New features of version 0.6.29 are mention below:
Fixed GUI bug with chicken

Added basic consistency of disposing rotten eggs from ice and fire

Pigs now wake up and attack you when you punch them asleep