Regular updates with a good amount of content is how games stay afloat, even after a long time. No one does this better than Minecraft. With 2 major updates already in store, there are rumors for new updates in the upcoming events. In this article, we are going to take a look at the Minecraft Live 2021 event and what you can expect. Let's dive right in: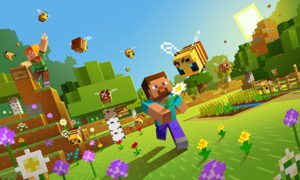 Minecraft
The latest update has brought some new changes to the game. There are a couple of unique new mobs that have been introduced, including goats. Other additions in part 1 of the Caves and Cliffs update include new blocks, some biomes, along with some improvements and adjustments. However, this is just the beginning.
The actual Caves and Cliffs update will be brought in with the next update. The 1.18 update will have deeper caves and taller mountains along with a few other additions. The theme will mostly be spooky, as the new mob additions along with the biomes that will be introduced are definitely scary. Other additions will include blocks, among other things.
Minecraft Live is traditionally held in the months of September or October, once per year. The annual event is hosted for everything Minecraft, which makes it a prime opportunity for developers to announce and release updates. The event is used by both Mojang Studios and content creators to talk about Minecraft.
With the latest Caves and Cliffs update and the sheer size of the content that has been released and is in the works, the following update is a big question. The 1.19 update, however, might not be such a far-fetched dream. The devs, when asked about Minecraft Live 2021 and what update will the event be centred on, had an interesting answer. You can watch a video regarding the same here:
While the devs have worked really hard in order to provide a great experience with the Caves and Cliffs updates, there are other things in store. There might be a new 1.19 lurking around the corner already, and the upcoming Minecraft Live might just be about the update. However, no conclusive date and time have been released for Minecraft Live 2021.
Read more about Minecraft here:
Read more about gaming on Digistatement