Microsoft is the tech brand that every PC user will be aware of. It is an American multinational company headquartered in Washington. Microsoft develops software, hardware, PC, and computer products. The brand took over Nokia but ended up shutting down its mobile business soon. In contrast, the company turned its attention to develop a mobile app that can enhance user performance. Instead of a smartphone, the closest way of Microsoft staying in the world of mobile seems to be by producing mobile accessories.
Having said that, Microsoft Surface Earphones are under the making. Official details of the Surface Earbuds have been surfing around, and therefore, here we are with the article. Check out the cool features the TWS earbuds are ready to give for users, its price and release date.
Microsoft Surface Earbuds Specification, Features-
First of all, the surface earbuds are one of the easiest to use most functional ones to release this year. The Surface Earbuds will rock a speaker with a diameter of 13.6 millimeters. It will support active suppression of ambient noise via a series of microphones, as quoted by officials. The connectivity supported by earbuds is through Bluetooth. Above all, the connection features will run with the help of "Swift Pair".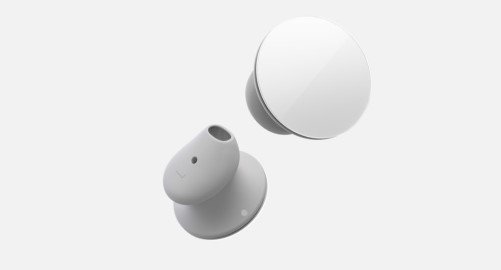 The best feature out there about the earbuds is its battery life. Microsoft promises 24 hours of battery life. It is split up by 8 hours that one charge supports and added on by the charge the case can arise. The case itself supports two times what one charge can last which is great. For earbuds, 7.2g, as mentioned, is quite lightweight. Also, users will have to download/ subscribe to the following- Office 365, App, Spotify, and Cortana (for select markets).
There are no specific details about the range, but Microsoft has promoted screen-free control. When one mentions that, it's not just about being wireless but also how vastly you can control with the earbuds. It seems like there will be a game-changer because the earbuds support touch and voice control. You can tap, touch, and swipe to control both your earbuds and device connected to. Also, you can call and listen to music in a tap and ask for assistance too. Microsoft promises ultra-comfortable fit and premium sound quality.
Microsoft Surface Earbuds Expectations-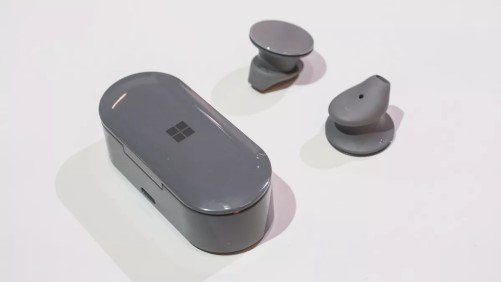 Each brand is coming up with wireless earphones/ earbuds. From Apple to Realme and its rival Xiaomi, it seems like the earbuds are the new marketing strategy. Though Microsoft is the most reputed and pioneer in tech, the company is quite slow when it comes to mobile innovations. Also, smartphone manufacturing didn't work out well, either. But in contrast, the earbuds seem very promising and might be the game-changer of 2020. All that users can do is experience how Microsoft will try and stand out.
Microsoft Surface Earbuds Price-
The official price has been revealed by Microsoft. The Surface Earbuds will cost $199 and this is the final pricing tagged. Although some reports are stating that the global variant that will release later on might cost $249 there is not an official word on that.
Microsoft Surface Earbuds Release Date-
Microsoft has announced that the Surface Earbuds will be releasing in the European countries on May 6, 2020. There are no other details about global variant or shipping. But the first release has been confirmed and the site is made ready to take orders for launching on the given date to Europe.
Rest assured, we will update the article if we receive further information about Microsoft Surface Earbuds, so stay tuned. Also, share this article with all those who are waiting for this device!