Xiaomi has successfully developed its market and consolidated in countries like India, China, Egypt, America and 80 more. The brand is the ultimate destination to purchase all that a person will need secondary to clothes! Mobiles- Yes, but what about other accessories? Watches, bags, televisions and even sneakers- you can purchase them in just a click when the brand promises to provide at their store. From tech products to lifestyle products, is there a thing that Xiaomi has not yet thought of manufacturing?
Xiaomi has not just provided devices to people, but also user-friendly software of its own. Mi Flash tool is an official develop tool that helps Xiaomi users flash the stock firmware of their devices. This article will completely guide you through how to use Mi Flash Tool but before that, check out the features of the tool given below.
Mi Flash Tool Details-
Users very often fall in confusion to find out the right tool without bothering about third-party apps or recovery. Mi Flash tool is an exclusive tool for Xiaomi devices alone. You flash the stock firmware of your Mi phones or tablets. Mi Flash Tool is compatible with Windows 7, 8 and 10 based PCs only and for Mi devices that are powered by Qualcomm GPUs.
The Mi Flash tool is claimed to be an all-in-one tool consisting of ADB Tool, Mi Tool, and all necessary drivers. Xiaomi Mi Flash tool comes with an in-built USB driver. This is the coolest feature provided. Lucky Xiaomi users! The drivers will be supporting Microsoft RNDIS, MTP, Qualcomm, USB Serial and Google ADB drivers. The flash tool offers three methods to flash your Mi device with-
Flash All Except Data & Storage
Flash All Except Storage
Flash All
Download Mi Flash Tool-
The given table consists of all the existing and active versions of the Mi Flash Tool. Click the link to instantly be redirected to the drive from where you can download the desired version of the Mi Flash Tool. For the latest version to be highlighted, we have provided the link separately above the table. Check them out.
---
---
Xiaomi Mi Flash Tool (older version)-
How to use Mi Flash Tool?
Mi Flash Tool is the easiest to use tool that any product of this function can rock. Follow the steps below to be guided on how to use the tool.
Step 1-
Open the tool after downloading and select the mode of flashing your Mi device.
Step 2-
Click "Select" and browse the file. Select the file and click "Flash".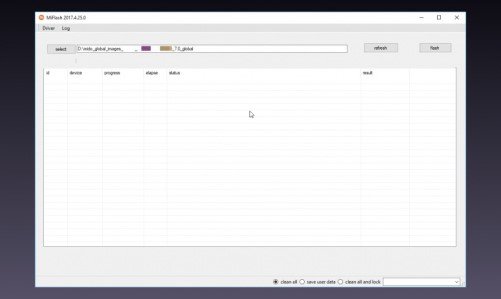 Step 3-
That was the last step and we are sure that you already know how user-friendly this tool us. Reach out to us via the comments section if you face any problem in installing the Mi Flash tool.
Rest assured, stay tuned for related content and more updates. Also, share this article with all the Xiaomi device users to help them customize their device with the simple Mi Flash too.