Verizon offers mobile and landline communications services, including broadband internet and phone service, is currently facing an outage at many locations.
Many users are experiencing internet issues & they have taken the route of Twitter to express their concerns & ongoing issues. Have a look at a few comments down below.
@rjPHX My cell service is down. I think we just won (lost?) apocalypse Bingo. @VZWSupport @Verizon

April 10, 2020, 10:46 a.m.
@ToomeyToones @MomsThoughts No. And my daughter in Atlanta isn't seeing that $600 extra per week in unemployment. She's going to be out of a home & car by the end of this. Her cell & internet provider, Verizon, isn't allowing any deferrals.

April 10, 2020, 10:41 a.m.
@BadTravelReview @VZWSupport your service is down in zip code 85383

April 10, 2020, 10:38 a.m.
@CNormandee @VZWSupport No calls. No texts. No internet.

April 10, 2020, 10:37 a.m.
@Disneydad94 @VZWSupport Is there a service outage in Surprise, Arizona? I suddenly have no service
---
Verizon Outage Map:
Also, a popular outage tracking website Down Detector confirms that there are some technical glitches with Verizon right now.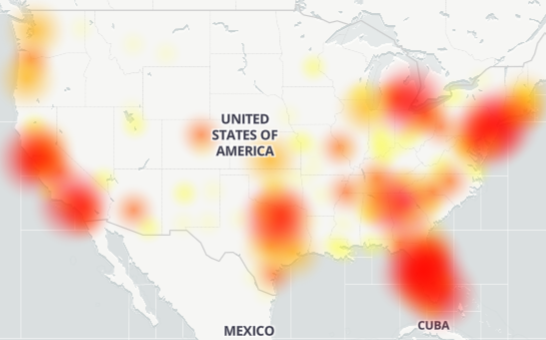 Any official word on the matter? No, not yet. We're not able to obtain a word from the official service channels or their social media handles.
Rest assured, we're keeping a close eye on all related developments, and will update the story with relevant info as and when we come across any. So in case, you're encountering the issues discussed here, stay tuned for updates.
---
Update : 1
@toolmandoug A network disruption was detected in the Phoenix, AZ area at 04/10/2020 09:48 Central affecting Data, Voice and Text services. We're working to resolve the issue, which could take up to 12 hrs. We recommend enabling WiFi calling via a secure WiFi source.
^RM

— Verizon Wireless CS (@VZWSupport) April 10, 2020