Marvel Strike Force is a turn-based RPG game released by FoxNext on the market in March 2018. It has been two years since its release, and it is one of the most popular games on Google Play with over 10 million downloads and a rating of 4.3. It has stunning visuals and exciting gameplay.
The main aim of the game is to gather Marvel characters and utilize them in diverse game sections to assemble five-member teams, which will fight against the enemies. FoxNext regularly rolls out new updates for this game to improve its gameplay and fix the issues experienced by the players.
Recently, FoxNext released a new update, 4.2.0, for Marvel Strike Force on July 14th. This update introduced three new playable characters: Squirrel Girl, Emma Frost, and Beast. In addition to that, several bugs were also fixed. The new update brought in some new content and improved the gameplay.
Not long after its release, players started reporting a bug related to one of the character in the game. So, without further ado, let us take a look at the bug experienced by players related to the new update.
Phoenix clone bug after update
Many players expressed the issue being faced by them on Reddit. They reported that when their Phoenix clone gets killed by Black Bolt, the character does not summon as Duplicate Post. And several other players reported that they are experiencing the same bug.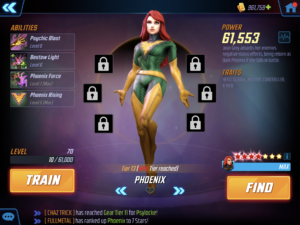 The players are eagerly waiting for the developers to find a solution for this problem. There is no official announcement from the game developers that they are working on this bug. However, a Foxnext Senior Community Manager responded to the bug reports and stated that the issue is being forwarded for investigation. So, it was a moment a relief for the players. We will keep you updated once the developers find a solution for this issue. You can take a look at the Reddit page by clicking here.