There have been many smartphone brands out there around us. Well, apart from their smartphones, almost every OEM these days have their own Custom OS. OEMs tend to provide a new UI with better features than the stock Android. There are many popular OS like OxygenOS, One UI, MIUI, and whatnot. There is a lot of craze and competition these days when it comes to Custom OS. We know that Honor manufactures some of the best devices out there at a very attractive price point. Not just that but, Honor devices come with this very amazing Magic UI. Magic UI one of the best OS with a beautiful interface and tons of useful features.
To be honest, Magic UI is nothing but a slightly modified version of EMUI meant for Huawei devices. While Huawei recently released the latest EMUI 10.1 to its devices, sub-brand Honor also came up with Magic UI 3.1.
Magic UI 3.1 Update:
Magic UI 3.1 is pretty much the same as EMUI 10.1 but with a few modifications. It comes with almost all the new features from EMUI 3.1. It is indeed a major update and brings home some new features along with other changes and improvements. While Magic UI 3 brought Android 10 and all its features to Honor devices, Magic UI 3.1 takes it even a level further. This iteration of OS acts as the perfect bridge to do away perfectly with the anticipation people have while waiting for the Android 11 update. Well, the OEM has now come up with something exciting for all its users out there.
Magic UI 3.1 comes with lot of new and amazing features like GPU Turbo, new UI tweaks, and a lot more. Honor also started rolling out the Magic UI 3.1 Open Beta to devices like Honor 20, Honor 20 Pro, Honor V20, and Honor Magic 2. Well, Honor has been releasing successive Beta updates to its some of its eligible devices since then. Other devices like the Honor 9X series have only got a taste of the Closed Beta release.
As we know, many OEMs these days are working on their Custom OS based on Android 11. However, Honor is yet to start rolling out the stable Magic UI 3.1 to all of its eligible devices. Considering that, Android 11 is still far away for Honor devices. Magic UI 3.1 is itself a great deal for users, though.
Devices to get Magic UI 3.1 update:
Honor has launched its latest smartphone that had been in rumors for quite some time. The Honor 10X went live officially yesterday(May 20) in an event in China. Well, the interesting part is Honor has now officially revealed the official Magic UI 3.1 eligible device list. Honor 10X also comes with Magic UI 3.1 out of the box. Here is the official list of eligible devices that will be bagging the Magic UI 3.1 update. This is the final list, and we don't expect to see any changes after this. At least, not so easily.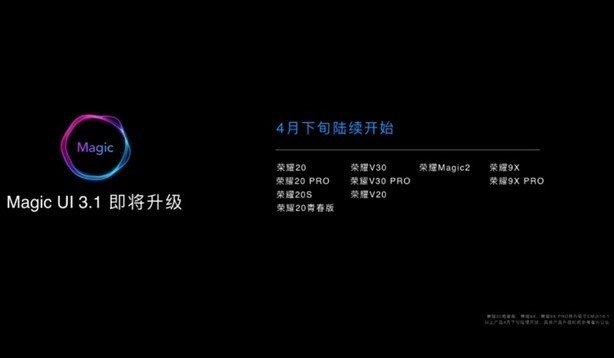 Eligible Devices for Magic UI 3.1:

Honor V30 Pro
Honor V30
Honor V20 Pro
Honor V20
Honor 20
Honor 20S
Honor 20 Lite
Honor Magic 2
Honor 9X
Honor 9X Pro
Honor 9A
Yes, the list is not as big as it should have been. But, this is what it is. However, this list is only meant for the Chinese regions. That being said there are a few possibilities that we might see some other devices making it to the list when Honor releases the list for the global rollout. We hope that happens.
Honor will soon start rolling out the stable Magic UI 3.1 update in the Chinese regions. The OEM will also reveal the eligible device list for the stable global rollout soon enough. So peeps, keep waiting until then.
Stay tuned for further updates on Magic UI 3.1 update and more such related content. Also, share this article with all those Honor users who have been waiting for this amazing update.