In the times of this global pandemic it has taken us some getting used to with the idea of "social distancing". But have you any clue there's someone who has been socially distancing himself since long now? In his class, there are only a few who can close the gap on him. We talk of the American giant who rules the world of technology like none other, Apple. Offering statement setting products whilst establishing a different appeal and sophisticated stature, Apple maintains distance with its competitors across globe. Especially known for the hassle free and smooth like melting butter experience it provides via the Mac OS. But, there's a catch like we mentioned earlier. After you get accustomed to a glitch-free experience on all fronts, a little wayward experience in terms of slow down or odd behavior of files becomes dramatic. 
Mac OS not loading a few websites? Here's the fix! 
We decided to address one such little issue that could possibly be bothering you as you read along. It has been observed that Mac OS at times is unable to load a few websites. Mostly you could find alternatives to these, but when you can't, it really gets annoying. Take note of these steps to get your websites up and running. 
Solution 1: 
Go to System Preferences that you'll find under the menu, once you click on the Apple logo (top left corner of screen). 

Now go to Network and from there to the WiFi tab that shall automatically come. Go to Advanced Settings after this.

Here in Advanced settings you'll find several options. Firstly, under the TCP/IP tab, switch OFF the Configure iPv6 option. On the right hand side, you'd see the button to Remove DHCP Lease, click on it. 

Now change tabs and go to the Hardware section. Here you need to set Configure to Automatically. 

Save Changes and that should work for you.
Solution 2: 
Okay, so for solution two, you need to open Terminal and run a command. The command reads:           "

networksetup -setv6off Wi-Fi".

The advantage this particular method has is that it takes care of whatever settings are forcing your iPv6 configuration to stay ON. 

And that's that, you should have had a positive result with that website you aren't able to open.
Solution 3:
Press CMD+SHIFT+G to open the Go to Folder window. Now type in "/etc/hosts" in the dialog box. FInd the file named "hosts" and open it with TextEdit. 

If you see things as given in the snapshot below, then you are good. If not, click on the below link to watch how to fix the issue.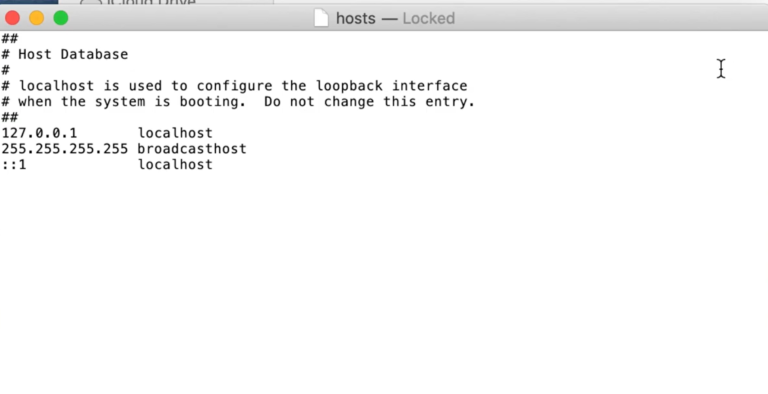 Solution 4:
This method deals with sweeping you Safari data. Open the Safari browser and click Safari from the title bar menu. 

No go to Preferences. Find "Manage Website Data" under the Privacy tab. Once the loading is done, click "Remove All". 

That should cut some unnecessary slag and fix your problems.