It goes without saying that Hexworks' Lords of the Fallen is a good Souslike game. It's no Elden Ring or Dark Souls 3, but it does its job perfectly enough in allowing players to experience the good-old Soulslike experience. But this is mainly for the gameplay side of things. When we come to the performance part, the game starts to fumble a lot. Right now, the game is a technical mess. Things like crashing, freezing, and whatnot are common occurrences and, as such, really need to be fixed immediately. So, we have shared this guide featuring some effective workarounds on how to fix such issues in the game for good.
It's always disheartening to encounter issues like this. At its core, Lords of the Fallen is a fun game and has the potential to be considered one of the good releases of 2023, but its technical issues have made that nigh impossible. However, it's not like these problems can't be fixed. So, take a look at the workarounds below to fix the Crashing, Not Launching, Freezing, Stuttering, and Black Screen issues in Lords of the Fallen.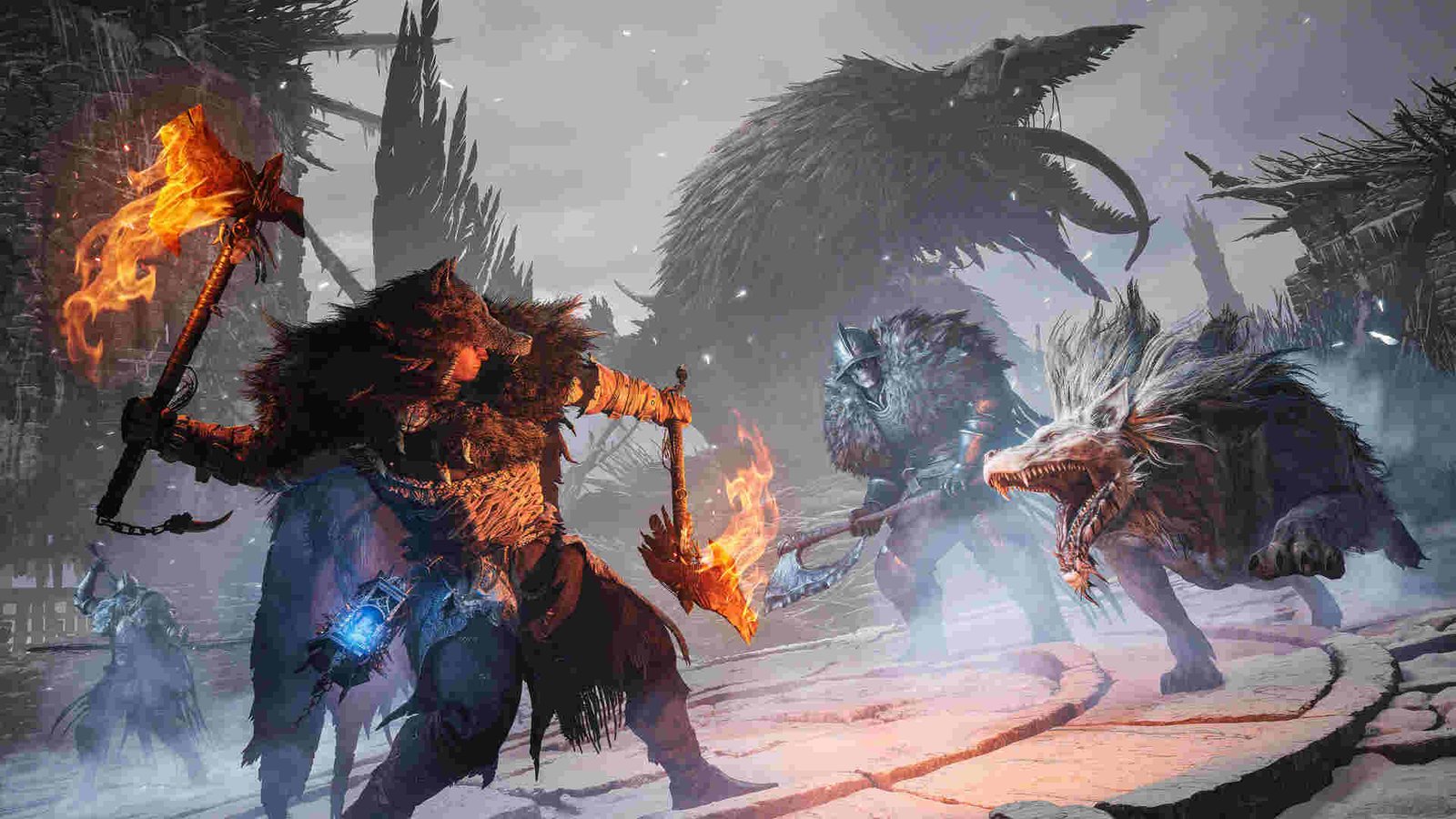 Lords of the Fallen (2023) Crashing, Not Launching, Freezing, Stuttering, & Black Screen Issue: How to fix
Hexworks is indeed aware of performance issues and has even shared some workarounds of their own. You can try those along with some of the ones featured in this guide and check if you are able to continue with your adventure in the game.
Restart –
Players are suggested to use the restart method first and foremost. It's a simple and quick method used to deal with lots of issues and errors. You can first start by restarting the game, and if the issue persists, move on to restarting the PC or console. There's a good enough chance that this might not work, but there's no knowing without even trying it out once.
Move the game to SSD –
These days, almost all developers recommend using SSDs for installing games. The same goes for Lords of the Fallen too. While the developers have HDD as supported in the minimum requirements of LotF, SSD is stated as preferred. And for good reason too. SSDs are miles faster than HDDs and are better suited for installing OS and games. So, if you have installed the game on your HDD, better switch to an SSD ASAP.
Ensure that LotF is running on a dedicated GPU –
This particular workaround is mainly for users who have both an iGPU and a dedicated GPU installed. Sometimes the system can get confused about which GPU to use unless told specifically. So, to do that, type in Graphics Settings in the Windows search bar and open it. Now scroll down and see if LotF is there under Custom options for apps. If not, click on the Browse button under Add an app. Now, select LotF and click on Options > High Performance.
Repair the game files –
Issues such as these can become a common occurrence if a game happens to have some files missing or corrupted. It's rare, but it happens. And the only answer to this problem is repairing those files. To do that,
Epic Games –
Launch Epic Games Launcher and click on Library located on the left panel.
Now, find Lords of the Fallen in there and click on the three dots to select Manage > Verify.
Start the game once the verification process is complete.
Steam –
Launch Steam and click on Library.
Look for the game and right-click on it to select Properties > Local Files > Verify integrity of game files.
Wait until the process is finished and then restart your PC.
Use Auto-Set option –
This is the first fix communicated by the developers. Players will be able to find this particular option by going to the in-game Settings menu and switching to the Graphics tab. When used, the AUTO-SET option will select the best possible settings or configuration suited for your build, resulting in fewer issues like this. So, make sure to enable it.
Try compatibility mode –
For some players, running the game in compatibility mode was what allowed them to continue with the game without facing many issues. You can do this by:
Right-click on the game's .exe file or shortcut and select Properties.
Switch to the Compatibility tab. Below you will see the "Run this program in compatibility mode for:" option.
Checkmark/tick that option, and from the drop-down menu, select Windows 8 or Windows 7.
After this, checkmark the Disable Fullscreen Optimization option. End the process by clicking on Apply and OK.
Update GPU drivers –
Something you should always keep in mind is to update your GPU drivers regularly. By doing so, you will get the best possible performance out of your GPU and have fewer issues with a game. Now there are two ways to update GPU drivers: by downloading through the official website or through the official companion app. The choice is yours in the end. If you still continue to face issues, use the next related workaround.
Disable Steam Overlay –
If you aren't using Steam Overlay, go ahead and disable it ASAP. It's a common culprit behind a lot of issues for other games too, so it's always better to have it turned off. To do this:
Open Steam and head to Settings.
From the plethora of options presented, select In-Game.
Take a look at the right side of the screen and untick the "Enable the Steam Overlay while in-game" option"
Click on OK to finish.
Doing so will disable Steam Overlay globally. However, if you want to turn it off for one game only then –
Head to the Library and find Lords of the Fallen.
Right-click on the game to select Properties > General.
Untick Enable the Steam Overlay while in-game option.
Click on OK to finish.
Once this is done, make sure to disable other overlay apps too like MSI Afterburner, Discord, etc.
Do a clean installation of drivers –
At times, performing a clean installation of the drivers can also help. And it's pretty easy to do it too. Just head to the official website of your GPU manufacturer and get the latest available drivers from there. Next, open that file, and in the installation window, select the Custom option. You will see a "Perform a clean installation" option. Checkmark it and install the drivers.
Run the game in admin mode –
These days, you should always run the game in admin mode if you don't want to experience a myriad of issues and problems. The same thing applies to Lords of the Fallen too. To do that, just right-click on the games .exe file and then select Properties. Now, switch to the Compatibility tab and checkmark the "Run this program as an administrator" option below. Finish the process by clicking Apply and OK.
Use -dx12 in Launch Options –
If you've got the game on Steam, try using this method. Essentially, what you need to do is head to Library and right-click on the game. Select Properties > General. Take a look at the right side of the screen, and below you will find Launch Options. Type in -dx12 and then launch the game. You can also do the same via the Epic Games Launcher. Just head to the Settings menu (after clicking on your profile) of the launcher, scroll down to the Manage Games section, and click on Lords of the Fallen. Now, checkmark the Additional Command Line Arguments option and enter the -dx12 command. If this doesn't work, you can also use the -dx11 command.
Delete PSOs –
The developers have also recommended deleting PSOs in case their previously mentioned workaround [see fix #5] didn't pan out. In order to do so, head to the following location first: "C:\Users\ [Usernamefolder]\AppData\Local\LOTF2\Saved\…". Now, look for the .UPIPELINECACHE file and delete it. Finish the process by verifying your game files [see fix #4].  
Get the update –
Currently, three patches have been made available by the devs for LotF. If you haven't downloaded those, go do so immediately. Once those patches are downloaded and installed, launch the game and see if the issue remains.
Run the game in lower settings –
As we said earlier, the game's performance is abysmal right now. This is why we highly recommend that you run the game on the lower graphical setting preset for the time being. Unless you've got a 4090, having LotF set on a lower setting is going to help a lot in avoiding crashes, freezing, and other issues. Also, take a look at the minimum requirements below to check whether your build has the ability to run the game normally.
MINIMUM REQUIREMENTS
OS: Windows 10 64bit
Processor: intel i5 8400 | AMD Ryzen 5 2600
Memory: 12 GB RAM
Graphics: 6GBs VRAM | NVIDIA GTX-1060 | AMD Radeon RX 590
DirectX: Version 12
Storage: 45 GB available space
Additional Notes: 720p Low Quality Settings | SSD (Preferred) | HDD (Supported)
Reinstall –
If you are still facing all these issues, the only other way besides contacting support is to reinstall the entire game. So, if you do go ahead with this method, ensure two things: Save your progress and have a good enough connection to download the game. You can start by uninstalling the game and then putting it on a new download. Once it's installed, start it and check if the issues resurface.
We certainly hope that at least one of these workarounds has been able to resolve this issue. But like we stated earlier, LotF's list of issues doesn't end here. There's the "crashing at character creation screen" issue too. Luckily, we do have a guide on it. And as always, don't forget to follow DigiStatement. Also, read: Lords of the Fallen (2023) DXGI_ERROR_DEVICE_HUNG Error Code 887A0006: How to fix