While Xiaomi has several sub-brands, no other is quite as popular among enthusiasts as POCO. And with such popularity among the more tech-inclined audience, it has a lot of expectations riding on it with every launch.
And this is all thanks to the POCO F1, which was released in 2018 with an unbeatable value proposition. It launched at $300 with a flagship Qualcomm Snapdragon 845 processor. At this price point and processor, it had no competition. All this was delivered in a device with a rugged design and great battery performance. The phone proved to be immensely popular and fans were no doubt excited to see what POCO would bring next.
The brilliance of the POCO F1 is also the reason why fans have been pretty disappointed with POCO this year. All the devices launched, while definitely good products in their own right, have been re-brands of other Xiaomi devices. The POCO X2 brought high refresh rate to the budget segment, but it was just a rebrand of the Redmi K30. The POCO M2 Pro is also a re-branded Redmi Note 9 Pro with just a few upgraded features. Similarly, the POCO F2 Pro is a renamed Redmi K30 Pro. The POCO F2 Pro is yet to launch in India.
And looks like POCO is ready to launch another smartphone. According to Twitter user @stufflistings, POCO M2007J20CG has appeared on the EEC certification website. And this model looks like it's going to be a high-end device. Xiaomi's phone with 120W fast-charging has a model number which indicates that these two might be in a similar series.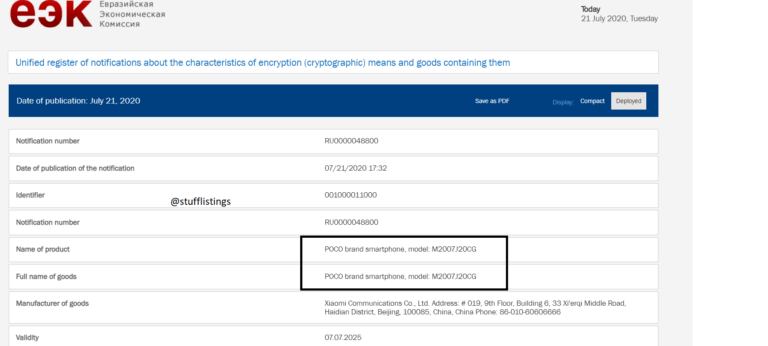 We have our fingers crossed that this is not just another re-brand and we can finally get a worthy successor to the POCO F1.