Another day, another brand and yet another leak. The summary of the smartphone market is precisely that, these days. The funny thing about leaks is their predictions are mostly 50-50. However, the optimist in us wants to believe them. Well, we believe there should be little room for false hopes while reporting such leaks. So we have brought you from a reliable source the photos that were leaked live of LG's new handset, the LG Q92. Is this another of LG's flagship? Read along to find out.
LG Q92; succeeding the LG Velvet 5G?
Since benchmarking platform Geekbench's reveal of an LG device listed as LGE LM-Q920N went viral, gadget geeks had their eyes and ears wide open. One look at the benchmarking sheet and you can tell this is not a high-end flagship device. LG had claimed of bringing a new 5G enabled line-up and they have chosen the Q92 as their preferable opener. LG have settled for the punch hole trend in this device that sports a 6.7-inch FHD+ screen. The Q92 will sit in the same bracket as LG Velvet 5G, owing to its Snapdragon 756G chipset. The camera on this one (both, front and rear) is a major upgrade from the Velvet. A quad camera at the back, with 48MP primary shooter and 2MP Macro lens, is a welcome change. The selfie camera is also an improved 32 MP now.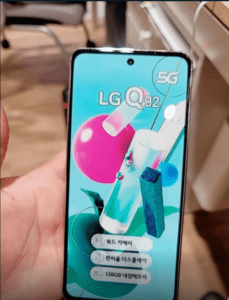 Unlike the Velvet 5G, there will only be a single variant to LG Q92, with 128 GB Internal storage and 6GB RAM. The screen on the Velvet is better in terms of the P-OLED display and 395 PPI, but that's too insignificant, to be honest. It remains to be seen then how pricey will be the Q92 and what more will follow from the LG stand.