LineageOS is an open operating system based on ROM that runs on top of Android OS in smartphones. The previous version of Lineage OS 16.1 was widely used by many Android smartphone users.  Since the beginning of the year 2020, we have been getting to see the latest version of Lineage OS- LineageOS 17.1 made available for many smartphones. The recent one on this list was Lineage OS 17.1 for ASUS ROG Phone 2.
Users have always loved to use LineageOS on top of Android due to various changes interface, sooner updates and more of a friendly, play-around type of environment. The developers recently dropped the best news for the users as the LineageOS 17.1 build Android 1o build is now live for all the Android devices in the first wave.
LineageOS 17.1 Android 10 builds now live for all devices in the first wave [Download Now]
LineageOS 17.1 build Details-
The LineageOS 17.1 builds will roll-out in batches. The first list of devices has been provided below.  LineageOS has been slow in launching a build compatible with the latest Android 10 in comparison with the previous OS release.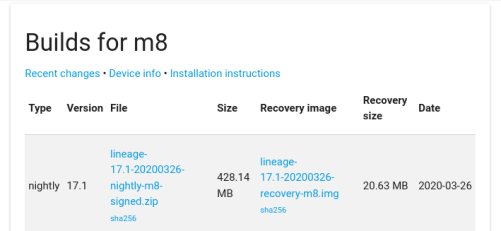 The unofficial build has been surfing around the web for a couple of devices as we mentioned above. But the latest build for the latest Android OS 10 roll-out is finally live. Also, the previous version of LineageOS which is the LineageOS 16.1 has been disabled for the first wave of devices that are under the live build access radar. Check below to see the first batch devices.
The first list of supported devices-
The first list has many devices, especially popular and fan-favorite ones for who the build roll-out is live already.
As mentioned above, LineageOS 16.1 has been disabled for these devices to clear out data space for LineageOS 17.1. Also, if these devices are running on Android 9 OS, users will no longer receive any further updates until stable Android 10 build is made available. In the coming weeks, we can expect the next list to be updated.
Rest assured, we will update the article when we receive further information, so stay tuned. Also, share this article with all those who were waiting for this update!
Via : AndroidPolice