LibreOffice is a free and open source office productivity suite available for all the major platforms like iOS, Android, macOS and Windows. LibereOffice is also available to use on Web through any web browser. It provides the user with programs to complete tasks like word processing, creating and editing of spreadsheets, slideshows, diagrams and drawings, working with databases, and composing mathematical formulaa. The suite was released in 2011 and it is developed by The Document Foundation.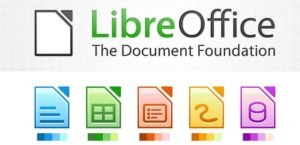 LibreOffice offers the following programs for the users –
Writer – It is a word processing application similar to Microsoft Word. It has an extensive WYSIWYG processing capabilities but can also be used as a normal text editor.
Calc – It is a spreadsheet program with a number of unique features. It also includes a system which defines the graphs for the user on the basis of information available
Impress – It is an application used for creating presentations. These presentations can be exported as .ppt files or .swf for viewing in Flash Player.
Draw – The Draw program in the LibreOffice suite provides connectors between shapes, different brushes and tools for drawing. It is a vector graphics editor and diagramming tool similar to CorelDraw.
Math – This application is used for solving mathematical formulas. It uses XML format for creating formulas, as defined in the Opendocument specification.
LibreOffice Suite's 7.1 version has been released. This new update brings a number of new features and enhancements. These are the new features added program-wise :-
Writer
New Style Inspector to display the attributes of Paragraph and Character Styles, and manually formatted (Direct Formatting) properties

Default anchor for newly added images can be set using Tools ▸ Options ▸ LibreOffice Writer

Ability to detect Unicode, even if the imported text file does not have the BOM (Byte Order Mark)

Significant speed improvement of find/replace operations
Calc
Added an option to manage pasting with Enter key, which can be switched on/off in the Tools ▸ Options ▸ LibreOffice Calc ▸ General dialog

Added option to select items in Autofilter window clicking on all item's row, in addition to the checkbox

Significant speed improvement of Autofilter and find/replace operations
Impress and Draw
The ability to add visible signatures to existing PDF files in Draw has been added.

Feature to change animations for several objects at once in Impress

Addition of "Pause/Resume" and "Exit"buttons to Presenter's Screen

Addition of realistic soft blurred shadows to objects

Addition of new physics based animation capabilities and new animation effect presets that use them
Download Links –