Legends of Runeterra or LoR is the all-new collectible card game from the house of Riot Games, the same folks who developed and published the popular game – League of Legends (LoL). Legends of Runeterra is currently in the development phase, and developers released the closed beta servers on October 15, 2019. And it didn't take much time for the game to gain popularity worldwide.
Today, a lot of players posted on various social media platforms, asking if the Legends of Runeterra servers are down. Yes, you are not alone. But, servers are not facing any issues or problems, as developers posted officially on various social media about "Servers-Down Issue." 
According to the developers, the Legends of Runeterra Servers are being taken offline for some time. Well, they haven't commented on any reason behind it. But, this is, clearly, a part of the development phase of the game. The closed beta servers are closed for now. Developers also mentioned that the servers would get again on November 14 with updated content.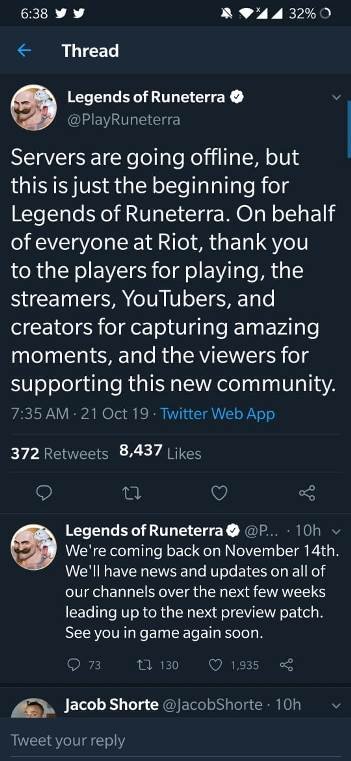 With the official announcement of the game, Riot Games also announced that the game would be available next year, that is, 2020. Well, the dates are not official yet, but we are expecting the official global launch in Q2 of 2020. The game will be launched on different PC as well as mobile platforms. And you can pre-register the game right now on your device running Windows, Android, macOS, iOS.