There are some tentative balance changes that have been shipped in the Public beta environment of League of Legends. Also, we have 3 new chromas dished out for Akali, Kenny and Shen. The chromas are a tribute to the thousands of health workers fighting COVID-19. Despite being a small patch, these are some important changes that we would like to highlight below. So, let's get down to the patch notes in the PBE.
PBE Balance Changes 10.13
Note that these are not official changes but are in testing and some of them may not make it to the live patch.
Kog'Maw
Caustic Spittle (Q) The AP ratio is increased from 50% to 70%. Now he effectively removes 22% Magic resistance from the enemy and provides considerable damage even in the early game.
Living Artillery (R) AP ratio increased from 25% to 35%. With a1.5 cooldown and range increased considerably, this is a nice buff.
Nunu & Willump
Consume (Q) AP increased from 50% to 65% increased heal and attack damage. Monster and Minion AP increase from 70% to 90%.
Absolute Zero (R) shield now has 150% AP ratio
Conqueror (Precision Keystone)
We're early testing on some Conqueror nerfs for 10.13

Max stacks 10 >>> 12
Adaptive per stack 2-5 >>> 1.7-4.2

Basically the same value at full stacks but a slightly longer ramp up. Emphasizes the longer fight patterns and less useful on bursty champs.

— Mark Yetter (@MarkYetter) June 6, 2020
 Rift Hospital Chromas PBE
PBE Bugs & Feedback Thread: Rift Hospital Chromas! from r/LeaguePBE
Nurse Akali
New textures:

Nurse Akali (Citrine)
Nurse Akali (Ruby)
Nurse Akali (Emerald)
Nurse Akali (Amethyst)
Nurse Akali (Tanzanite)
Nurse Akali (Obsidian)
Nurse Akali (Rose Quartz)
Nurse Akali (Rainbow)
Kennen MD
New textures:

Kennen M.D. (Rose Quartz)
Kennen M.D. (Ruby)
Kennen M.D. (Aquamarine)
Kennen M.D. (Citrine)
Kennen M.D. (Amethyst)
Kennen M.D. (Sapphire)
Kennen M.D. (Obsidian)
Kennen M.D. (Rainbow)
Surgeon Shen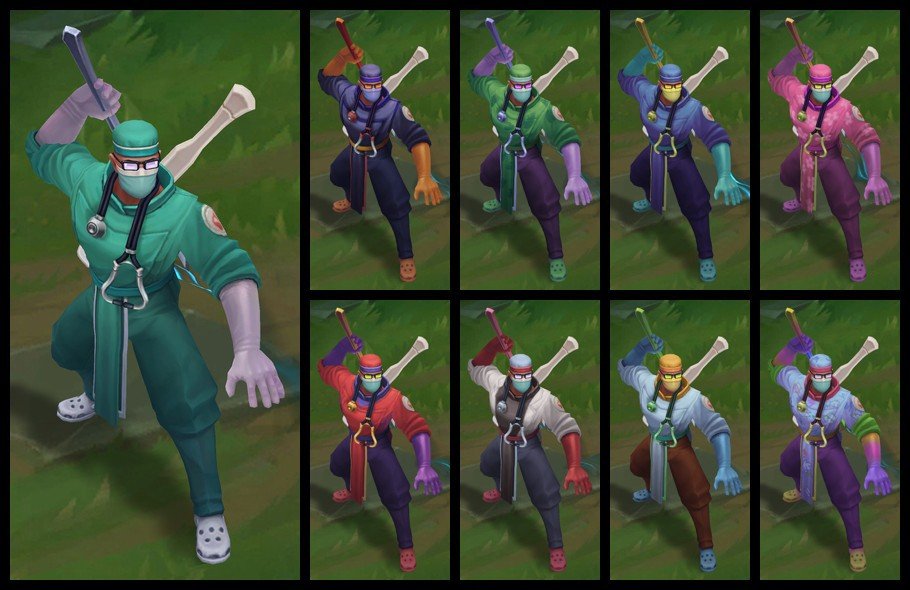 New textures:

Surgeon Shen (Obsidian)
Surgeon Shen (Emerald)
Surgeon Shen (Sapphire)
Surgeon Shen (Rose Quartz)
Surgeon Shen (Ruby)
Surgeon Shen (Pearl)
Surgeon Shen (Sandstone)
Surgeon Shen (Rainbow)