A few days ago, Riot Games revealed the details of the updated version 10.12 next week. Most notably, the "god" Yasuo/Conqueror will be heavily nerfed, especially the ability W – Wall Wind cooldown increased to 30 seconds at level 1. Perhaps due to Yasuo's excessive popularity in League of Legends, so many other Generals have been abandoned, so Riot Games is looking to nerf this champion.
However, things are not so simple, Conqueror with damage and recovery error still makes "extremely" strong. So in the latest tests of 10.13, Riot Games has nerfed the Conqueror, it was not only aimed at Yasuo because there are many damage-type champions who are abusing this gem.
We're early testing on some Conqueror nerfs for 10.13

Max stacks 10 >>> 12
Adaptive per stack 2-5 >>> 1.7-4.2

Basically the same value at full stacks but a slightly longer ramp up. Emphasizes the longer fight patterns and less useful on bursty champs.

— Mark Yetter (@MarkYetter) June 6, 2020
Riot Mark Yetter, the leader of League of Legends game design, announced the change of the Conqueror
Riot Mark Yetter: "We are in the early stages of reducing the power of Conqueror in patch 10.13
Max stacks increased from 10 to 12.
Adaptive strength per stack reduced from 2-5 to 1.7-4.2.
Basically, the maximum amount of adaptive power will stay the same, but the journey to achieve this will be more difficult. It will be better with longer games and not too strong in the hands of champions that accumulate damage. "
When you see Assassin like Talon use Conqueror as a default pearl, it is enough to understand the problem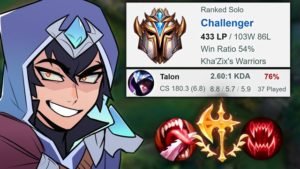 Although this nerf really makes Yasuo weak, this champion is still a melee form of DPS, adding 2 max stacks is just an extra basic attack. So if the update above comes true, it will have very little impact on Yasuo, while it will cause the Assassins to return to the points of accumulated damage like Electric Shock instead of abusing Conqueror as recently.
Also, Read
This change of Riot Games is not unreasonable, the Conqueror was born to enhance the strength of the long-term combat generals but recently it is being used too much for the wrong purpose. We see more and more Assassins, fast defenders, like Zed, Talon, previously Akali and even more recently Leblanc using this pearl. The main damage to the straight too large is what makes the Conqueror so abused.