League of Legend's devs have been actively working to bring out about nuanced changes to the patches. The whole process is transparent as devs have strived for balance and reaching the goal this year. The players have already stated that the recent patches balance has been the best it has ever been. Considering the roster size and regular tweaks dished out, it is a remarkable feat.  Now, this balance framework update elucidates the thought behind the changes and paves the way to a better game experience.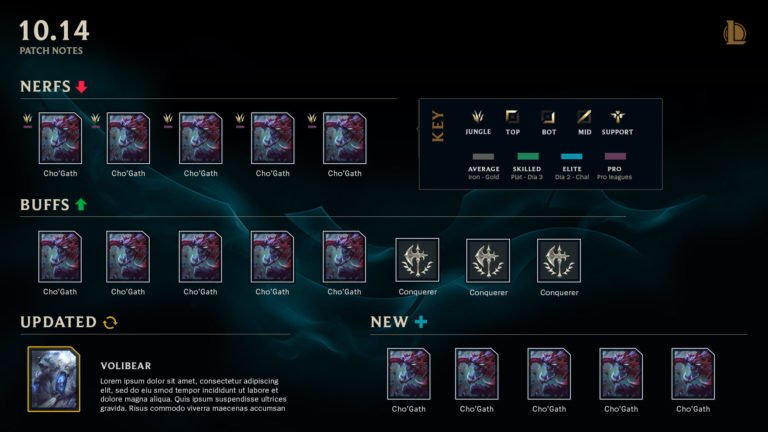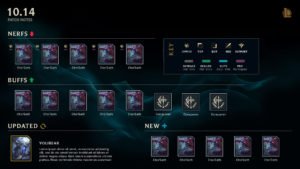 The first blog post in a series of 4 tackles topics in a patch life in a more detailed manner. Here is Mark Yetter explaining what the blog post is all about:
A really detailed write up of the evolution and most up to date balance strategy.

Just like this last year, we hope to keep impronand iterating on this strategy to make it better. https://t.co/ugU0k58TMx

— Mark Yetter (@MarkYetter) June 30, 2020
We can expect these posts in the future from devs
Blog 1, late June: State of the Champion Balance Framework introduced last year
Blog 2, early July: An updated approach to balancing new champs and VGUs
Blog 3, mid-August: Balancing for major pro tournaments, including Worlds
Blog 4, early September: Balancing runes and items (with a few callouts for preseason 2021)
So let us dive into the details of what the balance framework is and how devs make nerfs & buffs.
The Champion Framework
Being an LoL nerd and loving to hear the numbers, analysing elo data, pick rates and win rates comes naturally to me. Naturally, I was hyped to read this blog post and understanding how the actual changes work into the game. The champion balance framework monitors and analyses data from the four major groups: Average, Skilled, Elite and Professional. Upon that analysis, if a champion is overperforming in ANY of these groups, they are picked apart and nerfed. While if they are underperforming in ALL of these groups, they are in need of a buff.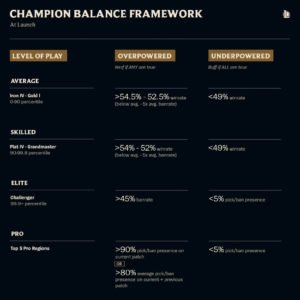 This is by standards of balancing the most holistic approach possible. It puts into account the audience/player needs while never being inconsistent. Here they take into account that at any level, an overpowered champion creates a disparity. They make the game less fair and get nerfs. While if a champion is underperforming across the board, Devs make it strong enough to at least one level.
THIS FRAMEWORK LETS US HANDLE PATCH-TO-PATCH BALANCE IN A MORE CONSISTENT FASHION THAT'S LESS PRONE TO SUBJECTIVE BIAS AND ENSURES THAT CHAMPIONS WHO ARE TRULY OVERPOWERED OR UNDERPOWERED DON'T FLY UNDER THE RADAR.
The rules and approach have been the same for the Devs at Riot, though they do update their thought process minutely with new challenges. This consistent approach has led to the nuanced balanced lying in the framework of Summoner's Rift.
The next update will also contain a new feature in Patch highlights. They will add more context in terms of the balance framework coupled that with the blog posts brings full clarity.
Balance Framework Changes and Why?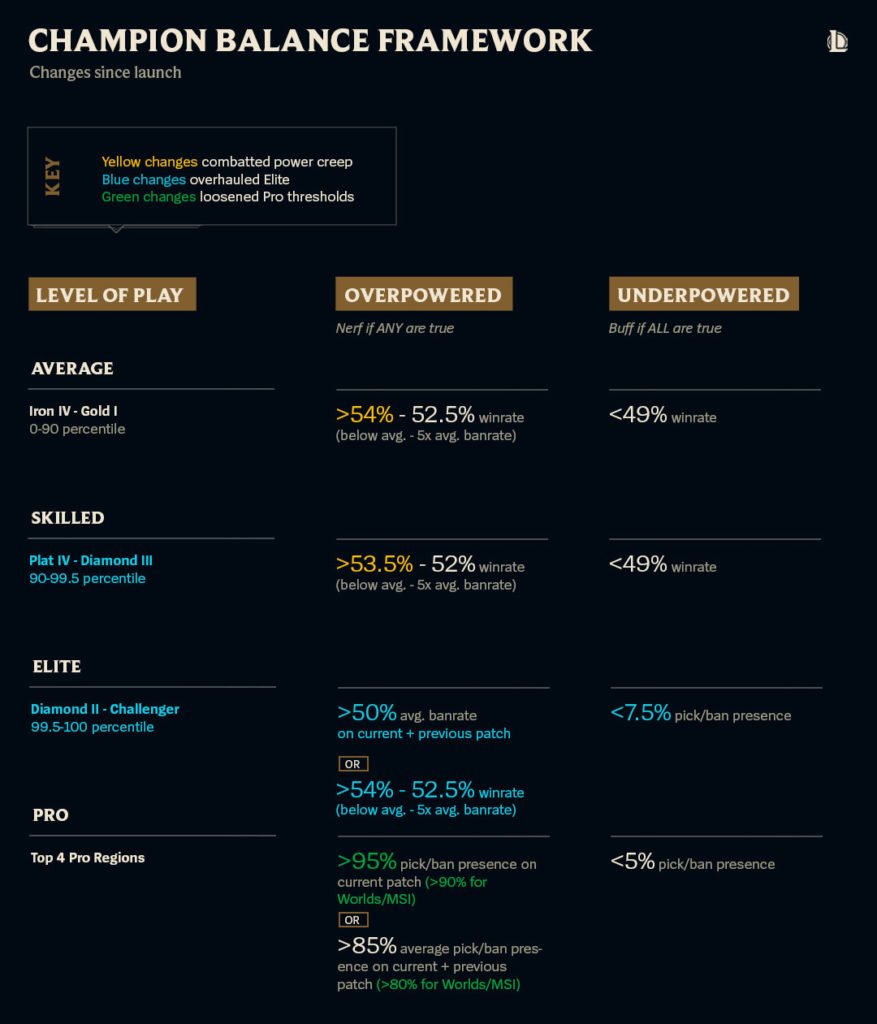 At each level of play, devs made some framework changes. We are providing you with a summary of those changes.
At Average skill level: Iron IV- Gold I-
The overpowered bands were tightened by 0.5% from taking in win rate 54.5% to 54%. No other changes at this level.
At Skilled level:
They firstly expanded the subset of OP metric to include a larger percentile aiding in Elite. Now skilled level spans from Platinum IV to Diamond III rather than Grandmaster. Its win rate is now spanning from 53.5% to 52%, 0.5% tightening.
At Elite level:
Elite now has two possible OP flags: The new "win rate based on ban rate" metric, as well as the original, pure ban rate metric. Now also requires a greater than 50% ban rate on the previous patch and current patch
or
54-52.5% win rate with 7-35+% ban rate. Win rate now is a factor.
At Pro level:
95% presence in a single patch for the auto nerf threshold to kick in from 90% for one patch. 85% over two patches remains unchanged. Now worlds patch and MSI patch have a 5% lower threshold for auto nerfs to kick in, from 0%. Autonerf thresholds for patches including the MSI/worlds patch is now 90% over one patch and 80% over two patches.
In addition, Riot is now monitoring the % total of champions that riot considers viable at all elos including pro play, and will nerf/buff accordingly beyond the thresholds. These will be long term changes, not short term knee jerk changes. Riot will not be creating solo queue or pro play problems to buff one of the numbers up, so the changes will be more long term. For instance, if Devs is one champion under the low elo win-rate threshold, they won't buff Azir to create a pro play nightmare just to clear the threshold for solo queue.
The new thresholds for viability are:
99% considered viable in all of SR games (normals and ranked)
95% considered viable in all of solo queue
80% of champions have a greater than 48.5% win rate in iron – diamond 3.
45% of champions have greater than a 7.5% pick/ban rate in diamond 2+
45% of champions have greater than a 5% pick/ban rate in pro play.