Most of the Android brands roll-out two major OS updates for the devices. OnePlus even pushes three OS updates for some devices that are eligible. In contrast, many devices are still waiting for the first OS update. Realme is unbelievably popular for its constant software updates. But unfortunately, some devices were crossed out eligible to receive an Android 10 update.
Realme 1 and Realme U1 released with Android 8.1. Both the devices did receive an Android 9 (Pie) update, which was the first OS update. Also, that was the final.
Realme also officially confirmed that Realme 1 and Realme U1 will not receive an Android 10 OS update. Realme decided to roll out the Realme UI update for these devices but the Realme UI is based on Android 10. So, these devices based on Android Pie neither received Realme UI update nor Android 10.
Official Word:
Realme UI is developed and based on Android 10 Only. So, devices like Realme 1, 2 U1 and C1 can't be updated to Realme UI. And developing Realme UI on Android 9 is not in the plans.

– Madhav Sheth, CEO Realme India
But finally, here's some good news for Realme 1 and U1 users. The users eagerly awaited some way out to get the latest smartphone features. Therefore, Realme Support replied to the users about the Kernel source code of the devices.
Realme will soon release the Kernel source code of Realme 1 and Realme U1. It should be live within 3 – 4 weeks.
We had got our customers voice about Realme 1 and U1 (Android P) kernel code open. Our guys are doing this work, pls hold on a moment. We will release it asap. maybe about after 3-4 weeks.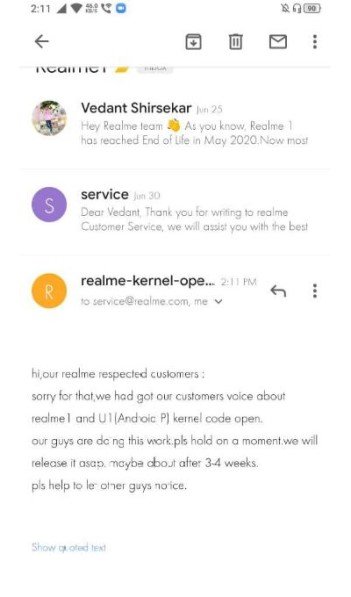 Kernel source code will allow third-party developers to develop tools. These tools will allow users to drastically customize their Realme 1 and Realme U1.
Rest assured, we post related content and updates every day, so stay tuned! Also, share this article with all the Realme users.