In the Kengan Matches, there is a fighter whose pinch grip is so strong that he can tear through iron like butter. His name is Rihito. He used his most powerful technique, Razor Edge, to pierce the chest of the Falcon. However, Falcon had one more thing in his sleeves. He stabbed his poisoned toes back to back in Rihito's body. Now it has become the battle of time. The one who lost consciousness first will defeat. So, who will tumble down first: Rihito due to poison or Falcon due to blood loss?
Kengan Omega Chapter 70 Spoilers
The previous chapter of Kengan Omega titled "Owl Talon Kick" was a short but interesting chapter. It showed the continuation of the second round where both of our fighters are on brink of death. The Kengan fighter Rihito baited himself and used his Razor Edge to pierce through the Falcon's chest which led to too much blood loss. Simultaneously, Falcon used the forbidden technique "Owl Talon Kick" which lets him stay airborne by using his opponent's back as a step stool. He continuously jumped and stabbed his poisoned toes on Rihito's back.
We had already seen poison technique in Kengan match by Dr. Hanafusa but he was not a regular fighter. Fans are really disappointed with Purgatory fighters so far because both the fighters had been proven to be inferior to their Kengan counterpart. Purgatory fighters have intel of all the Kengan fighters and still, they have to exert tricks to gain the upper hand. We just hope that Yabako sensei must have made remaining fighters strong in terms of raw strength.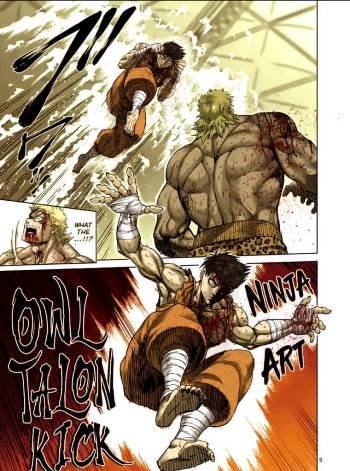 In the next chapter, we will witness the final result of the second round. As justified by Reddit theories, Rihito may be lost his consciousness and may have the same thought that he did during his end fight with Kuroki. Nevertheless, this time he may actually manage to pull it off. Kuroki is confident in Rihito's winning. But we are not sure until we get the raw scans.
 Kengan Omega Chapter 70 Release Date –
Kengan Omega Chapter 69 titled "Owl Talon Kick" was released yesterday under MangaOne and Ura Sunday (Shogakukan) and written by Yabako Sandrovich. Kengan Omega is a weekly scheduled manga so basically, the next chapter will release after a week on 23rd July 2020 at JST.
Where to Read Kengan Omega Chapter 70 –
You can read the latest chapter of Kengan Omega online as soon as it releases on the official website of Kengan Omega MangaOne. If you want to read Kengan Omega manga online officially, you can reach the MangaOne website or other Kengan websites.