Escape rooms are one of the fastest-growing phenomena right now and people are showing too much love towards them. For those who do not know what an escape room is, it is a room where players are locked inside a room and they need to solve certain puzzles to accomplish their target.
The target we are talking about mostly is finding the key to escape these locked rooms. These escape rooms seem to be some seriously awesome concept, right?
These indeed are. A lot of companies have started experimenting with the concept and bringing out more of these. And then there is Pine Studios which has released its first game based on these escape rooms, and we know it as Escape Simulator.
This game was released all over the world on 19 October 2021 for PC users. Within almost a week of its release, the game has managed to grab a lot of attention thanks to the amazing concept it has.
Here is everything you need to know about the game –
WHAT IS THE ESCAPE SIMULATOR?
Escape Simulator is a first-person puzzle game that you can play solo or with your friends to solve quite a lot of challenging puzzles to win. Since the basic concept of escape rooms is to solve these puzzles and find a way out, Escape Simulator has used this concept pretty well to its advantage.
The main objective for you in the game is to solve the puzzles when you are locked in a room and find a way out.
WHAT ARE THE RELEASE DATES AND PLATFORM?
There is a piece of good news and bad news. The good news is that Escape Simulator has already been released for the players on 19 October 2021. But currently, it is available for PC users only.
If you are wondering about the consoles version, here is the bad news. The devs have no plans of releasing the game on the consoles right now. But that does not mean that we will not be getting the console version of Escape Simulator.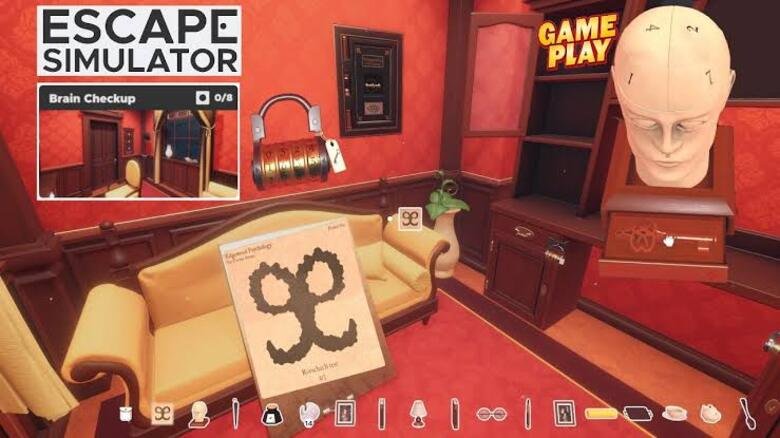 When asked this question, Pine Studios mentioned that they have plans to port the game to mobile devices like Android and iOS and consoles like Xbox One, Xbox Series X|S, PlayStation 4, PlayStation 5 and Nintendo Switch. This will happen somewhere in the future and we just need to be patient.
WHAT IS THE GAME ALL ABOUT?
The game is all about solving puzzles and getting out of the rooms you are locked in. Escape Room has made this concept even more addictive and interesting by adding thematic adventures to the game. You will get three thematic adventures in the game – The Labyrinth of Egypt, The Adrift in Space and The Edgewood Manor.
Each of these adventures has a total of five rooms, which makes it fifteen rooms in total. And we will be getting five more rooms the future free updates.
What's special about these rooms is that all of them have their own theme and a different set of puzzles. You can complete these puzzles alone or can also go for the online co-op mode with your friends.
On top of that, you can also become a creator! Yes, you can create your own thematic room with puzzles and upload them to the Steam Community!
Escape Simulator promises to be a really cool conceptual game and has a lot of potentials as well. We just need to wait and check out what all it does! Follow Digi Statement for more such updates!