There's something special about the horror games that keeps us on edge and the thrill of surviving makes it satisfying. Sker Ritual is one of the upcoming survival horror games with everything that will spook your wits out while making you feel badass with supernatural powers, steampunk weapons, and immerses players with the creepy atmosphere and fearsome supernatural entities that are hell-bent on hunting you down. It serves as a spiritual successor of the award-winning horror title, Maid of Sker, and improves upon everything in terms of gameplay and aesthetics.
With the brimming curiosity of horror fans, deep down all of us hope for the immersive horror games like Sker Ritual to be released on Nintendo Switch and the idea of owning it on a handheld console is alluring. Do the devs plan on porting it to Switch? Continue reading the article to know more about Sker Ritual and if it'll be coming to Nintendo Switch?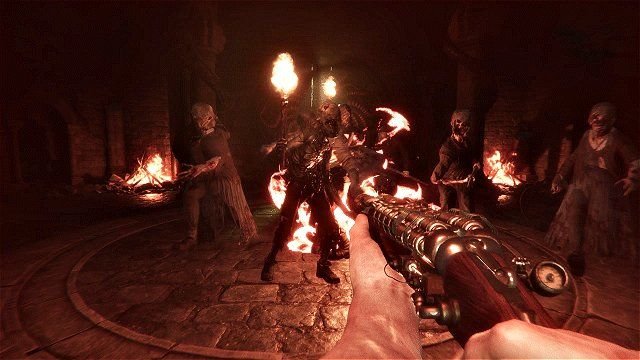 Overview of Sker Ritual
Developed by Wales Interactive, Sker Ritual is a survival shooter that looks beautiful yet spooky, and the intense gameplay does look appealing to play, judging by the trailers. If you're finding it too hard to survive on your own, you can always team up with your friends and survive the hell together with a maximum of 4 players online. The game also features numerous abilities and weapons that often let players adapt to the situation and change tactics on the go. This game reminded me a lot of DOOM and Lust from Beyond and shares many similarities in terms of level design, aesthetics, and horror vibes.
As you progress through the game and kill enemies, they'll often drop miracles that can be used to upgrade your power and come in many forms and each of them has its uniqueness. You can upgrade your weapons at Laughing Policeman's Booth at locations around the maps, you can also enhance your weapons ranks by applying upgrades for bonus buffs and enhancements.
Release Date of the game?
The game looks promising and has all the horror elements with co-op that makes it worth experiencing. Sadly Wales Interactive hasn't confirmed the release date of Sker Ritual yet. Based on the game's Steam page, it is arriving in Summer 2022, which isn't that far. We'll keep updating this article once we get the official release date from the developer's end.
Is it coming to Nintendo Switch?
While we do understand the hype Sker Ritual has for those who've played Maid of Sker, sadly it won't be coming to Nintendo Switch as the hardware will have problems running it on stable framerates. Given the complexity of the levels, and mechanics of the game, devs will have to cut features to fit it into the Switch, which isn't ideal for them and not worth the risk. If on the off chance that it does gets released, we'll keep you updated as soon as possible.
We hope that you enjoyed reading this article, stay tuned for more updates about Sker Ritual and other news at Digistatement.