Doom Eternal is a first-person shooter game that is expected to have a PS5 upgrade in 2021. Here is everything you need to know it.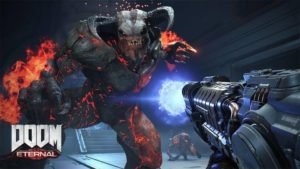 Doom Eternal
Doom Eternal is an award-winning first-person shooting game. It is developed by ID Software and Panic Button and is a direct sequel of Doom. Doom was the winner of The Game Awards 2016′  in the Best Action Game category. The plot of this game follows the Doomguy, who is on a mission to end Hell's consumption of Earth and foil Maykr's plans to exterminate humanity. The game comes with 2 campaign modes, Single-player campaign, and multiplayer campaign mode. The multiplayer campaign mode is called "Battlemode". In this interesting mode, the players can either play as a demon or as the Doom slayers, and fight until anyone of them is defeated. "Invasion" – another campaign mode is currently under development and will be released soon.
Notably, a standalone campaign DLC, called The Ancient Gods-1 was released. It took place after the events of the main campaign.
In Doom Eternal, the player has to develop simple tactics. They need to decide which enemy has to be killed first and how to succeed on the battlefield.  Furthermore, the players have to take the advantage of the fight arenas in a more strategic way.
The sequel of Doom, Doom Eternal received high appreciation for its powerful graphics, amazing campaigns, electrifying soundtracks, and vital combat mechanics. It received 5 nominations at "The GameAwards for 2020".
Doom Eternal PS5 upgrade
Doom eternal already available on PS4, Windows, Stadia, Switch, and Xbox One. However, it is currently not available in PS5. But don't lose your hopes. If you're looking to destroy the Hell Spawn at 60 frames per second rate, you surely will be getting that. Doom Eternal is eyeing for release in the next-generation gaming console. Moreover, the upgrade would be completely free. Players who bought the items on PS4 will also get an upgrade to any extras for free. 
Although Bethesda is yet to release the date for the upgrade on PS5, it is likely that the game will be released sometime this year.
Fans are waiting for this upgrade and are really excited to experience this high-end first-person shooting game in the amazingly smooth next-generation gaming console, the PS5.
Release date and possibility
Windows: ✅
Mac:  ✅
PS5: (TBA)
PS4: ✅
Switch: ✅
Xbox One: ✅
Xbox Series X | S: (TBA)