BudgetAir is a part of Travix International B.V. It has a huge portfolio of global websites specialized in selling flights, hotels and car hire all around the world. The global brands include CheapTickets, BudgetAir, Vayama, Vliegwinkel and Flugalden. You can compare and book flights on this website for any airline to any place around the world. The booking is completely safe and secure. You can get the best deals on hotels from their database of around 100,000 hotels and the best car hire deals from the world's best car hire companies.
Booking on BudgetAir is very simple and fast. It compares all the available options for giving you the most convenient flights, hotels, and cars at the best price. You need to choose where you wish to go. The site will do the searching for you and you would get more time to plan the rest of your trip. When you select the destination and travel date, available options will be shown for your trip. You can refine the search by selecting specific airlines or just the non-stop flights.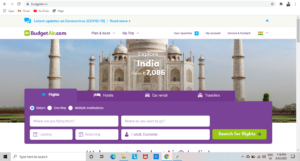 But users have given a different kind of opinion for BudgetAir. A user said that he has been waiting for 12 weeks for a refund since he canceled three flights. Another user said that he has been waiting for two months for a refund. He gets an automated email that says that because of the Covid-19 pandemic, the refund is getting delayed. One user said that he booked round-trip tickets. After five days, he received a message which said that his booking failed because of technical reasons. His booking was restored but the price he was searching for was no longer available.
Some users said that they booked flight tickets with travel insurance. But later they got to know that the site was not able to secure their travel insurance. A few days later, the users got to know that their reservations were canceled by the airline. They didn't even receive an email.
Overall what I have got to see here is that BudgetAir has received numerous amount of negative feedback from users. Users have complained about the things featured on their website and that they don't work at all. So, my recommendation is to go to other websites and book your flights and hotels instead of BudgetAir.