Teekerbell is an online shopping website of Phuc Anh Advertising Co., Ltd. They call themselves a pod brand and offer print on demand or personalized and customized products. The quest for them is to create unique and sustainable products to contributing community. They see their business as a vehicle for making an impact and inspiration in daily life. The core value that they want to bring is the new design and along with that, the satisfaction of the customers about their products.
Teekerbell chooses canvas fabric as the main material for their products. With the best features compared to other fabrics like lightweight, high strength, the site believes that their products would bring the best experience to every customer. Their products are a result of the time-honored handmade process. It takes 3 to 5 days and goes through different stages to complete the product.
Teekerbell is confident that its production speed is leading the marketing. They are also applying the best technology for enhancing their production progress.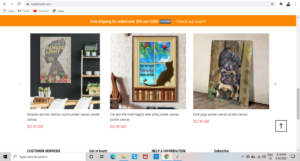 But users have been very negative towards the website. Most of the reviews posted about Teekerbell consist of reports about bad services on the website. A user said that the site would not let them get a different size and the post office was not able to verify their address at all. There was no zip code at all. The coat that the user received was not of the size he ordered and he was not able to zip the zipper.
Another user has directly claimed that the site is not legit. The user waited for a month for her product to be delivered to the distribution center. She threatened them with legal action and they sent her a photo saying that it would take 10 more months. The user further added that she paid something extra in order to get fast shipping. There have been very few positive reviews about the website. There were a few users who said that the products they received were of the best quality.
There are more negative reviews instead of positive reviews about Teekerbell.com. Users have reported various issues they experienced after purchasing from the website. Apart from that, the website has not been able to solve these issues at all. So, my advice, for now, is to prefer other websites for online shopping because Teekerbell.com is not a legit website.