You might be a fan of those card games where you can see menacing monsters all around (yeah, it is Hearthstone!), but it is a bet that you have never seen any card game like Inscryption.
It is something which will give you jump scares when you have just won a round and are sitting with ease! Yes, that is true. Yeah, Inscryption is that game where these scary monsters will suddenly pop out of the cards and scream a big "boo" in front of you. If that is not scary, I do not know what is.
Inscryption is developed by Daniel Mullins Games and is published by Devolver Games. Yep, it is the same Daniel Mullins who brought us the cult indie hit Pony Island. The game is all about winning a dangerously amazing card game against a demonic force, who will be your opponent!
The game was released on 19 October 2021 for Microsoft Windows, Linux and Mac OS. Taking about the console version of the game, there is no such official release date as of yet.
The game is set inside a dark cabin where players have to win a card game against a dark, shadowy figure to escape. So what is so special about the game?
What we found so special about the game was that it has combined some cool genres into one game. First of all, it is a card game where players play with a deck of cards with woodland creatures. Each creature has its own cost, abilities, health total and attack power.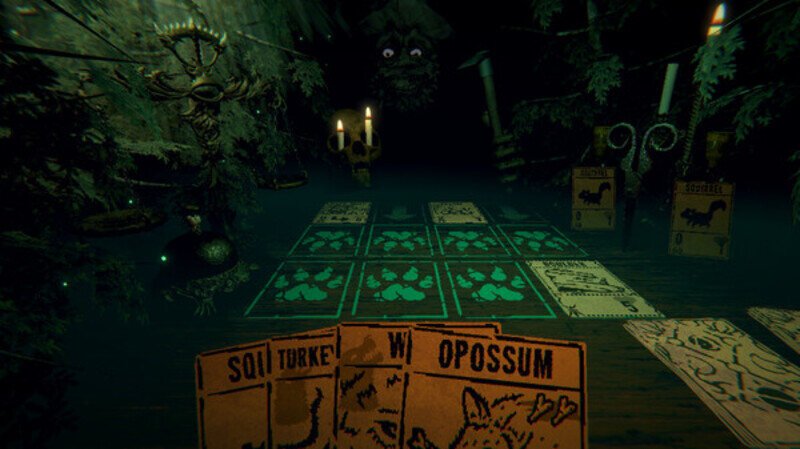 It has the elements of the escape room where players have to solve puzzles in between the cards rounds. It also has the roguelike elements (just like Slay the Spire) where players have to compete in a series of – long and short – battles in a single run. And yeah, the players have to make blood sacrifices to summon the cards. Blood sacrifices are an integral element of the game.
In between the card battles, players can get up from their seats and explore the cabin they are stuck in. Exploring has its own benefits. Through exploration, secrets like extra cards and bonuses can be found hidden.
These extra cards and bonuses give an upper hand to the ones who find them. Then there are the totems that can give you cards certain abilities that deploy different status effects. There are boss fights as well, in the middle of which the game rules can change!
After reading all this, you must be wondering if you can do all this exciting stuff using a controller, right? Sadly, the game does not come with controller support. And we have no clues if it would be available in future updates. But, there is a workaround m through which you can enjoy the game with controllers!
In this case, launching and playing the game through will help. Since the game should be played using a mouse and keyboard, you can use Steam's controller configuration so that the controller you are using can mimic the mouse/keyboard. Considering this game only uses WASD and left/right clicks, it is super easy!
This was everything you need to know about Inscryption the game. For more updates like these, follow Digi Statement.