Huawei Mate 40 Pro has been in talks for over two months. And finally, the wait is over! Huawei Mate 40 Pro is now available on the Amazon Germany website for sale, even before the official release of this device. In this article, you can see the official images of this handset which are watermarked by Winfuture, a german website. More details on the Huawei Mate 40 Pro specs and price are given below.
Huawei Mate 40 Pro Display:
With this all-new Huawei Mate 40 Pro, we get a large 6.76″ OLED HDR10+ display to give you a crisp and clear image. This display has a pixel density of 456 PPI. The display is accurately curved around the edges that give you a feel of a borderless screen. However, we do not know the refresh rate of this device yet, but as per the reports coming, the display is expected to have a 120Hz refresh rate which enables the user to get a seamless experience.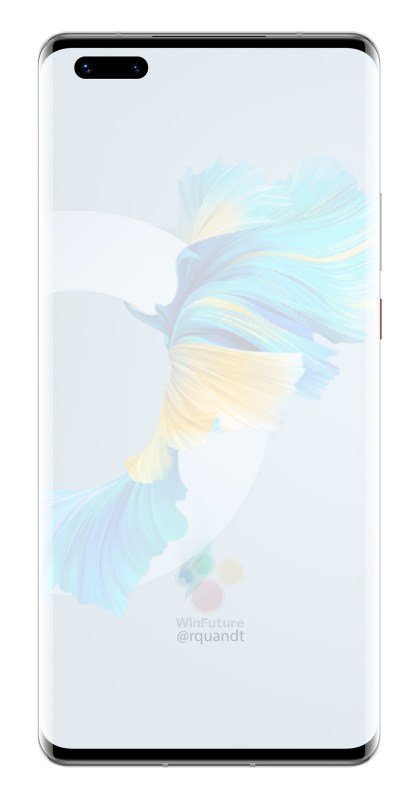 Huawei Mate 40 Pro Processor:
The Huawei Mate 40 Pro is powered by an octa-core chip, HiSilicon Kirin 9000. This was the latest SoC before the US Trade ban was forced on Huawei. Among the eight cores available on this chip, four cores use ARM Cortex-A55 and can work at a maximum of 2.04Ghz, the other four use ARM Cortex-A77 out of which three cores can work at a maximum of 2.54GHz and another one can work at a maximum of 3.13 GHz.
Other than these eight cores, this new chip has an ARM Mali-G78 graphics card, an integrated 5G modem, and Huawei's neural processing engine which helps in processing data related to Artificial Intelligence. The Kirin 9000 is the first chip to be built on a 5nm scale which comes with a narrower size.
The leaked Huawei Mate 40 Pro benchmark results are available here -> Huawei Mate 40 Pro GeekBench 5 results
Huawei Mate 40 Pro Camera:
Talking of the cameras, we get a triple camera setup which includes a 50MP primary camera with an F / 1.9 aperture, a 20MP ultra-wide camera with an F / 1.8 aperture, and a 12MP zoom camera with an F / 3.4 aperture, at the back. The primary camera comes with an optical image stabilizer
These cameras are expected to support the 8K video recording and a 5X magnification for zoomed recordings.
All these cameras are well-optimized with Leica to give a good quality image processing. Adding to these, we get new autofocus technology which combines laser autofocus and optical autofocus. Adding to it, we can also see an LED flash with a color temperature sensor to produce more realistic colors.
On the front, you get a 13MP camera with an F / 2.4 aperture with a 3D sensor.
Huawei Mate 40 Pro Additional Features:
The Huawei Mate 40 Pro comes with a huge 4400 mAh battery along with a 65 watts fast charge support, which can charge the device in less than one hour. This device also supports fast wireless charging and reverse charging. Other than that, We get an optical fingerprint scanner under the display which is expected to be more secure and unlock the device quickly. This device comes with Android 10 out of the box, but due to the US Trade Ban, it doesn't bring Google apps and services. We can see Huawei Mobile Services (HMS) on this device, as an alternative to Google Services.
This handset weighs 212 grams and is 75.5 mm wide, 162.9 mm long, and 9.1mm thick. We also get a NanoMemory card slot for special SD cards, Bluetooth 5.2, NFC, and Wi-Fi 6 support, IP68 dust/water resistance with Huawei Mate 40 Pro.
Huawei Mate 40 Pro Price and Release Date:
As mentioned above, this device is available for sale on Amazon Germany, where you can book it for 1199 euros, which roughly translates to 1,04,627 INR, which is quite expensive than the expected price of this device. On the Amazon Germany website, the availability date of this device is mentioned as November 9, 2020.
The Huawei Mate 40 Pro is scheduled to release on October 22, 2020, at 6:30 PM IST.
We are continuously tracking reports related to Huawei Mate 40 series & will update you with more information whenever it arrives, so stay tuned! Follow our website to get technology updates as soon as we publish them.
Source:- WinFuture