Microsoft just a few hours ago released 2021's first Insider Preview build 21286 of Windows 10. It includes a lot of new features and is also looking promising, though it still has some areas of improvement, it will most probably be some minor faults. It includes five to six brand new customs and features but the most noticeable out of all of them is the introduction of DiskUsage Command Line Tool. Well, the users have been keeping a look-out for this since the last month, as everybody knew that they would be adding this future, and it was under-work at that moment.
Many of the Insiders have already noticed this feature, and it's all about the enhancement of the file system utilities, which the company named DiskUsage. This is a huge help in enabling the Insiders to view and even query the disk space by using the command line. With the help of DiskUsage, you can easily track your files and various directories that are consuming an excessive amount of space on your drive. Well, in layman's term, it is really common to get out of space and lose the track of what programs or files are summing up all of that hard drive storage, but due to this utility, the user will be enabled to scan the entire drives or specified folders and will be reported accordingly about how much each folder is consuming.
The Use of DiskUsage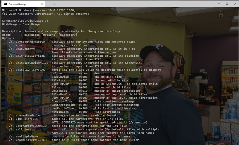 Before this, users had to go for the free tools out there such as TreeSize, if they want to list folders that are using the most of their space. But now, Windows 10 has provided this feature to them inherently, so that the users do not have to take aid from such external software now. It is a great helping tool as it scans the specified directory alternatively or also maybe can scan the entire drive with detailed information on even how much of a space each subfolder is consuming. It also fully supports output customization and extensive filtering options.
One of the examples of this is: >> diskusage  /d:1
Now, what it will do is that, it will display all of the used space under each folder, that it's currently using, of the current directory.
The users can easily get started just from, today onwards, only by typing diskusage  /? in a command-line window, so that you can be exposed for more usage information and extra options.