Call of Duty Vanguard is finally out for us to play and we are just loving everything about it. The game was released back on the 5th of November 2021 for Microsoft Windows, Xbox One, Xbox Series X|S, PlayStation 4 and PlayStation 5. It has already been almost five days since its release and the game has a lot more than said to offer.
Vanguard, the 18th instalment in the overall Call of Duty series has been well received by the community and people are pretty much impressed with the map design in particular. According to a lot of gaming websites, the map design of Call of Duty Vanguard is probably the best ever made in recent years.
There is another feature that Vanguard has got from its predecessor – the split-screen feature. Yes, Call of Duty Vanguard supports split-screen as well. After all, there is nothing better than sitting down with your friend, booting up a game, and playing it together in the same room! If you are wondering about the split-screen mode in Call of Duty Vanguard, here is everything you need to know –
WHAT MODES CAN YOU PLAY SPLIT-SCREEN IN (AND WHAT NOT)?
Call of Duty Vanguard has three primary modes to offer at present, and only one of them support split-screen. Here are they –
CAMPAIGN
This 18th instalment in the series has drawn quite a lot of inspiration from Call of Duty: World at War. World at War was the first Call of Duty game that introduced a playable split-screen campaign mode. But it is quite unfortunate news that Vanguard does not have such a feature even after borrowing so much from World at War.
Yes, the campaign mode in Vanguard is exclusively single-player. You can't play the game using a split-screen. You can't even play this game with a friend online, it is completely a solo-campaign experience.
MULTIPLAYER
Here is the good news. You can play Call of Duty Vanguard using a split-screen both online and locally. But if you do want to play online then you will need two online accounts (Xbox Live, PS+) signed in – you can't just use one online account and a guest. The split-screen is restricted to team games though, you can't play free-for-all modes. Do not think much, there are obvious reasons for that.
ZOMBIE
The Zombie mode has been one of the most fan-favorite modes of Call of Duty for a long time now, and it is something you would prefer playing with your friend, sitting on a couch, using the split-screen.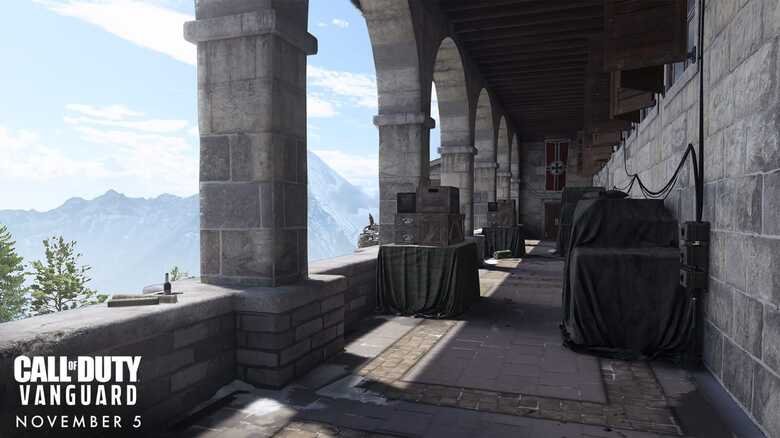 But it is not possible in Vanguard since it is an online co-op mode or solo mode only. You simply can't play Call of Duty Vanguard's Zombie mode using split-screen and there is no workaround for it as well, at least for now.
HOW TO PLAY SPLIT-SCREEN MODE?
Local Multiplayer
Sign in to Call of Duty: Vanguard on any account, online-enabled or otherwise.
Go into the "Multiplayer" menu and press either Y or △ on Xbox or PlayStation respectively to create a local game.
Sign in a separate account on a separate controller, online-enabled or otherwise, and press A or X to join the game.
The player who sets the game up should be able to fill the game with bots and choose any map or mode they desire. Both players have access to all weapons and attachments in a local game and can use whatever they want.
Online Multiplayer
Sign in to Call of Duty: Vanguard with an online-enabled account.
Sign in on a separate online account on another controller. Both accounts need to have PS+ or Xbox Live Gold.
From the "Multiplayer" menu the second account must press A or X to join the lobby.
The player who sets the lobby up can now choose to matchmaker.
This was how you can play Call of Duty Vanguard using split-screen mode. Follow Digi Statement for more guides like these.