We show you the way out of the Kingdom of the Gods of Valhalla in this indicative guide, updated with how to return to Havi.
It's nice to play the deities in Asgard in Assassin's Creed Valhalla, but remember that this is simply a vision brought by one of Valka's potions, the volva of the Ravensthorpe colony. If you want to take a break from your search for a feline imprint or root, here's how to carve out the domain of the Gods.
How to Leave Asgard in AC Valhalla?
Open your map, then at the top left, you will see an eye icon. Passing over it, you will see the alarm clock mark: keep pressing the indicated button to leave Asgard and return to these good old lands of England in the company of Eivor.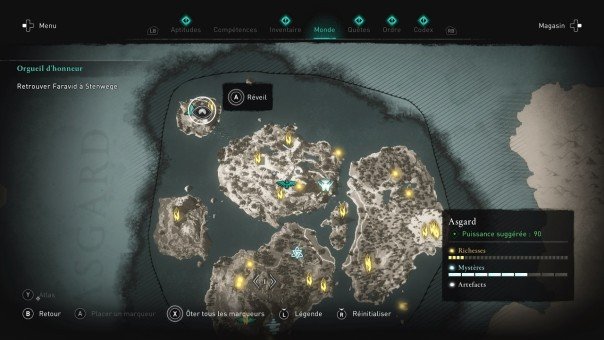 How to get back to Asgard?
If you plan to regain control of Havi, you will have to complete a new mission for the Colony Volva. Entitled "Deeper", this quest will take you to the Hall of Trials in the Hundred for a few platform trials. It is also the first stage of the famous Bretons' Treasure, leading to a legendary weapon whose name we will not mention here so as not to spoil you. Returning to Valka, you should then gain access to two potions: one for Jotunheim and another for Asgard.