Minecraft is a very creative and famous game developed by Markus Persson in the Java programming language. The recent 1.17 update in the game has brought along many new features and exciting things for users. We're sure you are all excited to update the game and play. There are certain mods in the game which you will need, like the Fabric Mods and Fabric. We have a detailed guide in this blog for you to Install Fabric Mods & Fabric in Minecraft 1.17  and have an amazing gaming experience in Minecraft.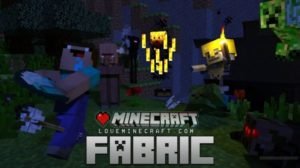 About Minecraft
This game doesn't really need an introduction, it is famous worldwide for its creative features and freedom one has within the infinite world of Minecraft. There are many versions of the game, Java version, Windows version, and a mobile version.
It is a 3D game with no accomplishments to make as such, but build your own world using the things you discover and find around in the places you visit. The game world is composed of rough 3D objects which are mainly cubes and fluids, and commonly called blocks. Picking up and putting these things is at the heart of the game. These blocks are placed in a three-dimensional grid, and players can freely travel about the environment. Players may "mine" bricks and then position them anywhere they choose, allowing them to construct structures.
How to install the Fabric Mods and Fabrics in Minecraft?
Fabric is a mod loader for Minecraft that works similarly to Forge. The fabric already has a large number of modifications, and it works with a variety of Minecraft versions.
Before proceeding to the process, make sure you have the latest version of the T-Launcher, 1.17.
To download the Fabric Mods:
Go to the official website of the mod.

Once on the website, click on download for 'VANILLA'.

Below that, choose 'Download for Windows or universal version'.

Launch the downloaded Fabric installer and select the desired version of the game from the Minecraft Version list.

You don't need to select anything else, just set the "Show snapshots" checkbox if necessary! Without changing anything else, click on "Install".

Close the installer and run T-Launcher, look for a new version "fabric-loader-XXX+XXX" that is now present in the version list.

You are ready to launch the game!
You can find the mod loader for the latest version of Minecraft on the official website of T-Launcher or Minecraft.
Happy Gaming!