VR Gaming always gave us different experiences as opposed to playing on PC or Consoles with the ability to move freely using a motion controller that takes hand-to-eye coordination to a new level and its visuals that adds icing to the cake. Oculus Quest 2 is the most preferred VR headset for many gamers who prefer smooth gameplay with beautiful visuals to magnify their experience even more. Like PC gaming, you can further enhance the quality of the games in Oculus Quest 2 to make the game feel more lifelike. With that being said, here's our guide on how to improve Oculus Quest 2 graphics quality to offer you the VR experience that you always wanted.
How to improve Oculus Quest 2 graphics
Oculus Quest 2 is considered one of the best affordable VR headsets that deliver phenomenal performance and improve upon Quest 1 in many ways. There are plenty of beautiful VR games that many players enjoy like Half-Life Alyx and Resident Evil 4 that offer the ultimate experience when playing on VR. However, many players reported that the graphics looked more blurred or soft. To fix it, we have a few tricks that you can use to bump up the visuals and make it more enjoyable. With that being said, here's how you can improve Oculus Quest 2 graphics.
Register as an Oculus developer
To access the advanced features of Quest 2, register your account as an Oculus developer here. Once you're done with that, you'll be sent to the organization page, enter the name of your organization & tick the "I understand" checkbox, and click on Submit.
Download ADB drivers
If you're using Oculus Quest 2 on a PC, you need to download ADB drivers on your PC, as Mac and Linux users don't require this. You can download the drivers here. After visiting the page, click on the blue download button on the upper right side of the screen. After downloading it, extract the files and open the USB driver folder. Now, right-click on the "android_winusb.inf" file and click on Install. Restart your computer after installing the driver for this to take effect.
Enable developer mode
Now that you've done installing drivers, the next thing you have to do is enable the developer mode. In order to do that, make sure that your quest 2 is turned on and is connected to the same wifi network as your phone. Also,  make sure that your phone's Bluetooth is turned on. Now, open the Oculus app on your mobile devices, tap on the menu, and under devices scroll down until you see the developer mode option. Now, toggle it ON.
Install SideQuest
SideQuest can now take effect after you've enabled developer mode. It is similar to the Oculus app & allows users to purchase games meant for Oculus Quest 2 and feature some games that aren't available on the official oculus website.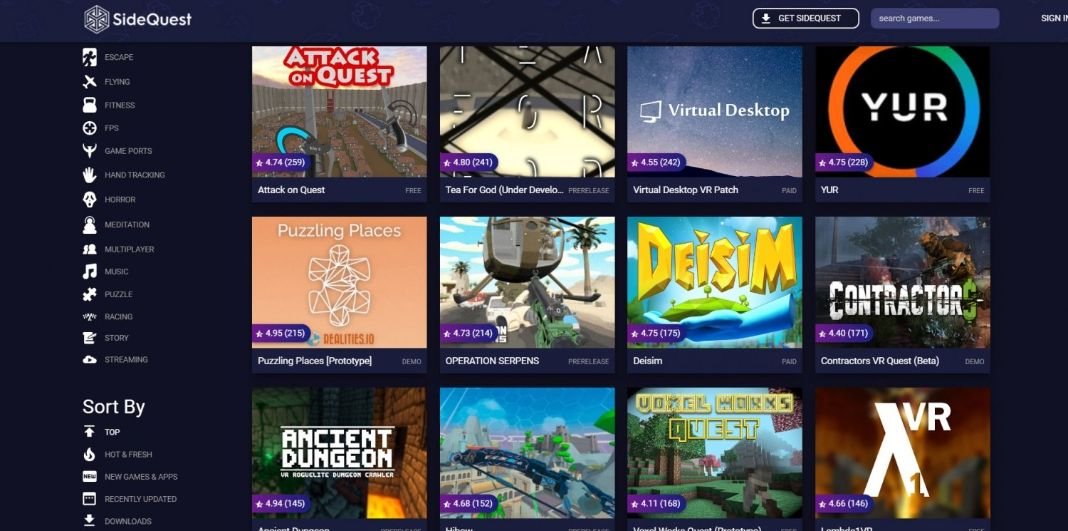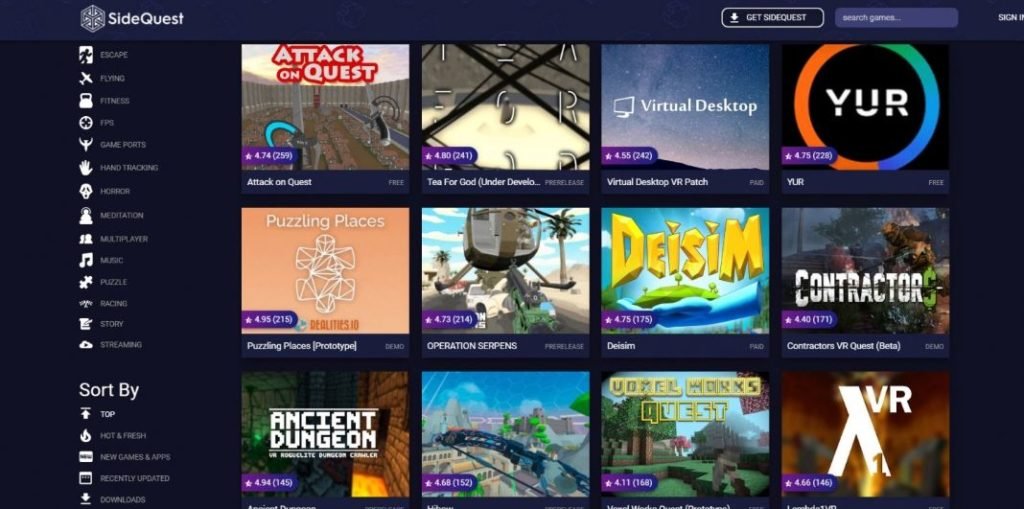 As this is an unofficial app, you have to sideload them manually onto your VR headset, after that, enable the "Unknown Sources" in the app menu. Anyways, to tweak the graphics of your games, sidequest also has various tools that you can use to increase the resolution of the games to make them look sharp and more detailed. Select the version of your operating system and click on the download button. Visit the official SideQuest download page here.
Now, launch the Setup file and follow the instructions on-screen to complete the installation. After that, open the application and connect your Oculus Quest 2 to your PC. Put on your headset and you'll see the "Allow USB debugging" option. Click on "always allow from this computer" every time you want to use the app and if you're using it for one time, simply click on the "allow" button right next to it. Also, grant access to data once the prompt screen appears and click on "Allow" once again.
Settings that you should change in SideQuest
In the main window of Sidequest, you will see a green button indicating that your headset is connected, your network ISP address, and your battery level. Click on the wrench icon on the upper right side of the interface and you'll see various customization options like refresh rate, chromatic aberration, full-rate capture, and many more.
The setting that you want to change is "Default texture Size" which increases the resolution of the game. Select whichever you're comfortable with. You can also set CPU and GPU to level 2 or level 4 as it helps some games run better. The only drawback of this is that these settings are temporary so you have to enable them over and over again if you reboot your Oculus Quest 2.
Note: If you increase the Default Texture Size to a very high value, your in-game fps will suffer. So, make sure to keep this in mind before cranking up the texture size value.
This concludes our tutorial on how to improve your Oculus Quest 2's graphics. We hope that you enjoyed reading this article, Stay tuned for more updates at Digistatement.