Dealing with bugs and errors is traumatizing and sometimes it's frustrating to search up the fixes on the internet. Nintendo provides the best quality and user experience, but when it comes to bugs and errors, it surely falls behind. Today, we are going to talk about error code 2107-0445 and ways to fix it.
First of all, let us discuss what this error signifies. Well, it is still unknown what is the cause of this error. This error pops up on the home screen and nothing else happens. Some say that this error is due to the microSD card fault and some say that your Nintendo console is broken or dead, and must be sent for a repair. We will give you some tricks that you can use to fix this error.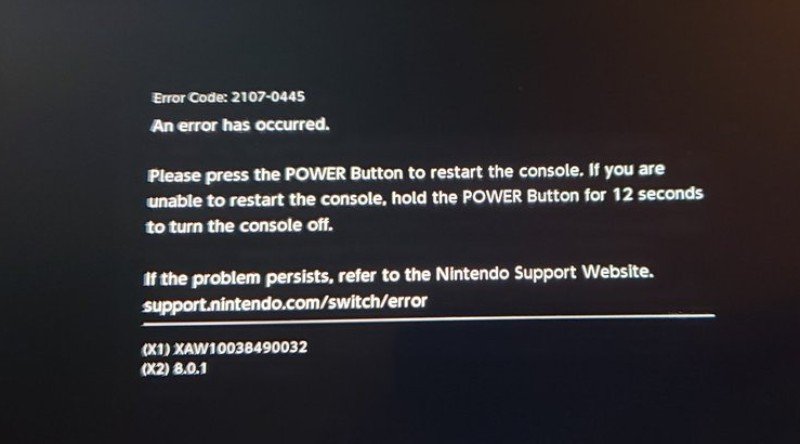 Error Code 2107-0445 Fixes
Although there is not verified fix to this error, the list given below is beneficial. These are the solutions that have worked wonders for many users.
You can restart your console and check if the error is fixed. Keep holding the power button for three seconds and click on restart. This is the trick that you can mostly follow as an immediate fix.
See if you have the latest version on your Nintendo switch. If not, go to settings and download the latest update.
The fault can be due to the MicroSD card also. You can turn off your console and take out the SD card. Now turn on the console to check if the error has been fixed or not. This is a long process and might not also work. There is a rumor that this error occurs due to the faulty microSD card.
You can also check your network settings and try fixing the DNS settings. This error can be a network error too. So, checking every possible step can be a perk.
If the problem still exists then you have to book a repair service from the official Nintendo customer care. This error is pretty much new to us and nothing much has been discovered yet. This error can render your device useless. Hence it is better to contact Nintendo for a quick repair.