Madden NFL 21 is an American football video game developed by EA Tiburon and published by Electronic Arts, based on the National Football League (NFL). It is a simulated game that has gained popularity among gamers on various consoles. Despite this fact, Madden 21 players are facing many errors and bugs. One such error that we come across in this game is 'Madden 21 error CE-34878-0'. If you are facing this error and want to fix it, we have it all in this blog!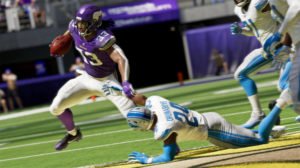 About: Madden 21
It's the latest entry in the long-running Madden NFL franchise. On August 28, 2020, it was released for Microsoft Windows, PlayStation 4, and Xbox One, and on December 4, 2020, it was released for PlayStation 5 and Xbox Series X/S. The cover athlete is Baltimore Ravens quarterback Lamar Jackson, and the commentators are Brandon Gaudin and Charles Davis.
A mobile version was launched too on Android and iOS as Madden NFL 21 Mobile. The mobile version was released before the initial launch of the game in 2014.
Though this game is available on most of the famous gaming consoles, PS4 is more favored to play this game among thousands of players from all over the world.
What is error CE-34878-0 in Madden 21?
Madden NFL 21 has received a largely negative response from players because of too many errors enclosed. Error CE-34878-0 is one such error that is frustrating the gamers to their nerves.
This error pops up when you have finished playing the game and hit the 'finish game' button, the game will close, it will crash and return you to the home screen of your device or gaming console. During this process, you may also lose your progress in the game and other saved data in the game.
How to fix error CE-34878-0 in Madden 21?
Madden 21 is facing errors on almost all gaming console platforms, the game crashes unexpectedly and refuses to reopen. Various factors could be causing this error but it is most likely to be a fixable error.  
We have mentioned some solutions which could help you fix this error.
Solution 1 Install Updates
Some games can still be played without the need for an update. The games simply prevent the addition of new features or online play.
Every year, a large number of single players play Madden 21 but never use the multiplayer features.

On any system, updating the game may be the key to preventing further freezing or crashing. These updates may contain the patch that resolves whatever issue Madden 21 has.
Solution 2 Power Cycle the Device
This is a great place to start whether you play on PC, PS4, or Xbox One.
Shut down whatever system you're using to play Madden 21.

Instead of restarting the device, turn it off and wait one minute.

To make sure the system is working, unplug it from the outlet.

After that, plug it back in, turn it on, and check to see if Madden 21 crashes any further.
These methods should help you fix the error, if not, you can write to the tech support or to the developers.