FIFA 22 is a freshly arrived installment in the FIFA game series. Developed by EA Canada and published by EA Sports, FIFA 22 is available to play on multiple platforms including Microsoft Windows, PS4, PS5, Xbox One, Xbox Series X|S, Nintendo Switch, and Google Stadia. Out of these platforms, Microsoft Windows is the most popular and grossing platform in the case of FIFA 22. But sadly, this recently released game is troubling some PC players by throwing an unusual error named DirectX Function Error. If you are also facing a similar or related error, then this article will help you fix it. So, keep reading it till the end.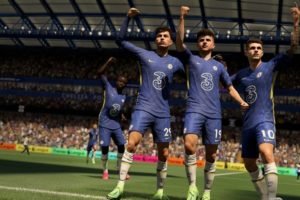 FIFA 22 DirectX Function Error: How to fix it?
The DirectX function error we are talking about comes up with a message, "GetDeviceRemovedReason" or "DXGI Error Device Removed". Moreover, here are some steps that you must follow and see if they fix this error for you:
1) Make sure that your dedicated graphics card is enabled: To ensure, search for "Device Manager" in Windows Search bar > Expand Display Adapters > Right-Click on your Dedicated Graphics Card > Enable Device 
2) Make sure the game is running on your dedicated graphics card: To run FIFA 22 on the dedicated graphics card, Go to Graphics settings from Windows Search Bar > Browse > FIFA22.exe (Game Installation Folder). Once it is added to the list, select Options, check high performance and click on save.
3) Re-install the graphics drivers folder: To uninstall the graphics driver, Go to Apps and Features from the Windows Search Bar > Search for AMD or NVIDIA graphics driver > Uninstall the driver. Now, you can do a clean installation of the graphics drivers too. Visit here for Nvidia Graphics Drivers, and visit here for AMD Graphics Driver. Don't forget to check the option for a clean installation in the process.

4) Changing the value of DirectX_Select: To change this value, search "Documents" in the Windows Search bar and open it. Now, Open the folder of FIFA 22 > right-click on fifasetup > Open With Notepad. Now, find "DIRECTX_SELECT" in the list and change its value to 1 if it is 0, or to 0 if it is 1. After that, press Ctrl+S to save the file. 
5) Disable in-game overlay: Open Steam or Origin whatever you use > Head to your Game Library > Go to the settings or properties of FIFA 22 > Disable the in-game Origin or Steam Overlay. You can also end any other application from the Task Manager that has a screen overlay like Discord, GeForce Experience, etc.
6) Disable full-screen optimization: Go to the FIFA 22.exe file > Right-click and select Properties > Under the Compatibility tab, check "Disable Full-Screen Optimizations"
So, this was all about the FIFA 22 DirectX Function Error. You must note that the solutions that are mentioned, are generic solutions. There is a possibility that they might not work for everyone. If you found this article helpful, share it with your friends.