The recently released football game, FIFA 22 is being loved by many players around the globe. Many FIFA game series lovers purchased the game on the very first day to play it over different consoles. Currently, FIFA 22 is available to enjoy on many different platforms that include Microsoft Windows, PS4, PS5, Xbox One, Xbox Series X|S, Nintendo Switch, and Google Stadia. Just like any other game, FIFA 22 also accounted majority of its customers on the Windows platform. But unfortunately, some FIFA 22 players are facing crashing, freezing, not loading, not launching, black screen, or FPS issues while trying to play. If you are also facing any of these issues while playing FIFA 22, then continue reading this article to see the guide to resolve them.
FIX: FIFA 22 crashing, freezing, not loading, not launching, black screen, or FPS issues
The solutions that are mentioned below are some generic solutions. So, there is a possibility that they might not work for everyone. You can follow the below-mentioned steps one by one and try to launch FIFA 22 after each one.
1) Changing the value of DIRECTX_SELECT: To change this value, search "Documents" in the Windows Search bar and open it. Now, Open the folder of FIFA 22 > right-click on fifasetup > Open With Notepad. Now, find "DIRECTX_SELECT" in the list and change its value to 1 if it is 0, or to 0 if it is 1. After that, press Ctrl+S to save the file.
2) Disable in-game overlay: Open Steam or Origin whatever you use > Head to your Game Library > Go to the settings or properties of FIFA 22 > Disable the in-game Origin or Steam Overlay. You can also end any other application that has a screen overlay like Discord, GeForce Experience, etc.
3) Set Settings to Default: Open the FIFA 22 Launcher > Game Settings > Restore Default > Ok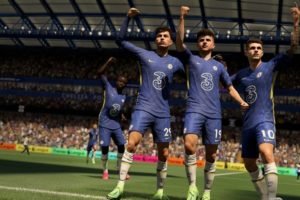 4) Open the game in Windowed Mode: Open the FIFA 22 Launcher > Game Settings > Windowed/Windowed Borderless > Ok
5) Run FIFA 22 in compatibility mode for Windows 8: Go to your Game installation folder > Right-Click on FIFA 22.exe file > Properties > Compatibility > Check Run this program in compatibility mode for Windows 8 > Apply > Ok
6) Install Visual C++ files: You have to install or repair visual C++ files. For this, you have to install, both, x86 and x64 versions.
7) Allow the FIFA22.exe file to antivirus or Windows Security: Perform this step at your own risk as your PC can be vulnerable to threats through this step. To allow the game to Windows Security, Start Menu > Settings > Update & Security > Windows Security > Virus and threat Protection > Manage Ransomware protection > Allow an App through Controlled Folder Access > Add an Allowed Apps > Browse all Apps > Open the game installation folder and select FIFA22.exe.
8) Clean Installation of your Graphics Drivers: You can do a clean installation of the graphics drivers too. Visit here for Nvidia Graphics Drivers, and visit here for AMD Graphics Driver.
9) Run your game on a dedicated graphics card: Go to Graphics settings from Windows Search Bar > Browse > FIFA22.exe (Game Installation Folder). Once it is added to the list, select Options, check high performance and click on save.
10) Xbox Game Bar: Disable it by searching from the Windows Search Bar.
11) Update Windows 10 or 11 to the latest version: Search Update in Windows Search Bar and Open it > Check if there are any updates and update your system. Also, perform the clean boot at the end.
So, this was all about the fixes and workarounds for crashing, freezing, not loading, not launching, black screen, or FPS issues of FIFA 22. If you found this article helpful, share it with your friends.