Call of Duty Modern Warfare is a very popular action game. The intense gameplay with crisp graphics is at par with the aesthetic demand of modern gamers. However, the dev error code 6071 is a let-down considering the huge fanbase of Activision.
The complaints received on the Activision forums describe the issue vividly. Players can launch the game. However, after launching, they can hear the loading sounds but no visuals are present. Then, the game crashes. Not to worry! We have just the right fix for helping you.
Error code 6071 Fix
The fix is that you change the UUID number of your PC from the registry. This might be tricky to hear but it is very simple. However, before diving right into the UUID registry, you should try the conventional fixes. The fixes that you should try are listed below: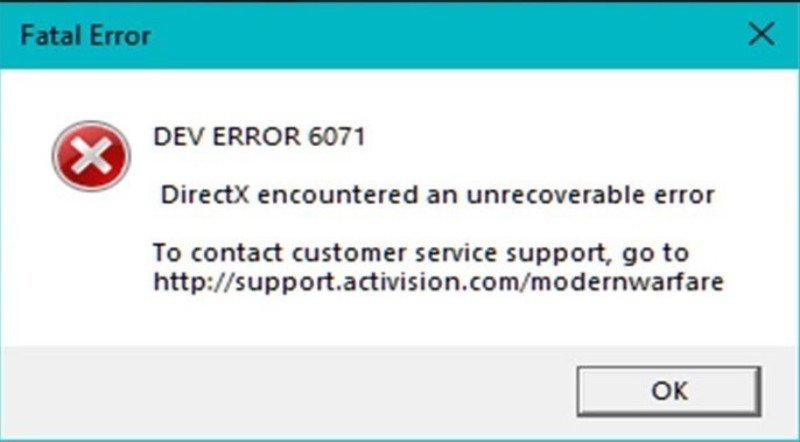 Update Windows – When you have a mandatory update pending for Windows, you should install that. It can be possible that the latest files have compatibility with COD: Modern Warfare.
Update Graphics Drivers – Graphics drivers play an essential role in modern games. The high GPU output mandates that you should have the latest version of the driver you use. Head over to the device manager from the control panel. Under Display Adapters, select the graphics driver installed in your system. Right-click on it and then click on Update Driver.
Re-install the game – This is a very common solution but does not have any guarantee. What it does is that you get all the latest files once again in the game directory. In this way, you are using all the files as it was before.
Now, coming to the main thing. If you are still looking for a solution, I presume that the above methods did not work. Well, follow the steps to generate the unique UUID key and apply the same.
Head over to the UUID key generator website.
Copy the key generated.
From the Start menu open Registry Editor or type regedit in the win+R window.
Click yes if the User Control popup appears
From the left menu, navigate to HKEY_LOCAL_MACHINE -> SOFTWARE -> MICROSOFT -> CRYPTOGRAPHY.
Double click on MachineGUID.
Paste the UUID copied earlier.
Click on OK and close the editor.
On using the new UUID key, you are tricking the COD software to think that this is a different machine. However, never use the same key as mentioned in some popular YouTube videos. Others can simply track that key to retrieve information from your PC.
This should hopefully resolve the issue. The actual fix for the error code 6071 is still awaited. We can anticipate that Activision will address this issue soon.