Diablo Immortal offers quite impressive tricks that players can use to enhance their gear and take on bosses that are tougher to beat and extracting essence and transferring from one piece of gear to another one is one of them. It can come in handy if you wish to collect powerful weapons in the game and even enhance them to a power of your liking. Wondering how does it work in Diablo Immortal? Continue reading the article to know more about the essence and how to extract or transfer it in-game.
How to unlock essence transfer in Diablo Immortal?
In order to unlock essence, it is mandatory for players to have two sets of legendary gear of the same type. They can be hard to find and you'll most likely have them by completing the campaign mode, given their rarity and lower drop rate.
The only way to acquire legendary equipment in Diablo Immortal is by doing various in-game activities like completing rifts, grinding mobs, running dungeons, or through battle pass rewards, login rewards, etc. If you don't get legendaries even after a couple of tries, don't be discouraged as they'll eventually drop.
Once you have two pieces of legendary equipment of the same type, head to Westmarch and meet a special NPC named Zamina, speak to her and she'll allow you to use her extract and inherit services. She can be found near the other merchants in Rakkis Plaza.
How to extract essence in Diablo Immortal?
No matter what type of legendary equipment you have, all of its essence can be extracted by simply taking it to Zamina, despite the level of the item. You'll be charged with gold per extraction of the essence. Do keep in mind that extracting the power of the legendary will completely destroy the equipment, however, you'll still retain the properties of the legend that you extracted like its name, power, and appearance to a desired legendary of your choice.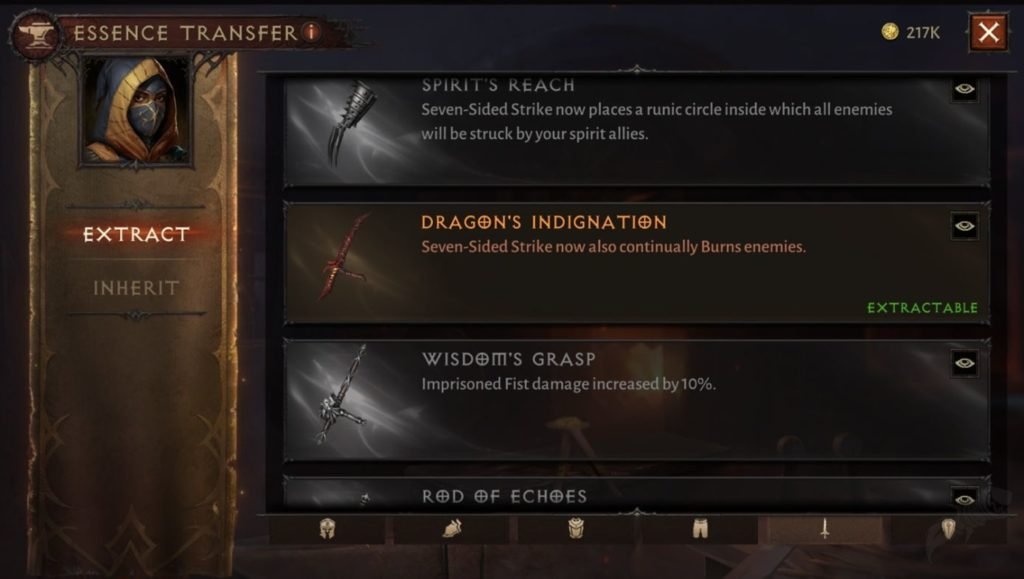 If you simply wish to inherit the powers of the previously destroyed legendary, again you can use Zamina's inherit service. But, unlike extracting, it is free of cost and can be repeated multiple times. Using this service will transform the weapon's appearance, power, and name.
Resetting the inherited item
If you believe you have assigned the wrong power to your legendary or aren't satisfied with the essence, the game also lets you reset the item that has inherited the power from the original legendary by speaking to Zamina. There, you'll see the reset option. After confirming the changes, she will revert it to the original form without any issues.
We hope that you enjoyed reading this article, stay tuned for more updates at Digistatement.