As the world of Diablo Immortal is vast with lots of activities and quests, it can be frustrating traveling back to it, however, there's a unique feature called Auto-Navigate that lets players venture around the world without the need to use the controller or touch inputs. You can sit back and enjoy the sightseeing of the beautiful world or if you want to run an errand quickly and want to go to a specific location in mind, Auto Navigate is a sweet feature that gets the job done. If you're new to the game and are having trouble with Auto Navigate, we've put all that information on how you can use Auto Navigate in this simple guide. Continue reading the article to know more.
Benefits of using Auto Navigate in Diablo Immortal
Auto Navigate can allow players to relax if they're tired of exploration and it can save you a lot of time and energy. While exploring new regions can be fun and the experience is unique, backtracking to previously visited locations can be tiring. With that being said, here's how you can use Auto-Navigate in Diablo Immortal.
How to enable Auto Navigate
Auto Navigation is turned ON by default. However, keep in mind that auto-navigation is only available when you complete the Quest of Wortham. The auto navigation feature can be used in two ways and in this article, we'll be explaining how you can make use of them.
Navigate to a specific location
If you have a particular place in mind and wish to head there, you can use auto navigation to head there without a hitch, provided you have already completed all Quests of the destination region. Follow the steps below on how to use it at a particular location.
Open the World Map menu located on the right-hand side of the screen
Select the location that you wish to navigate by tapping on it.
After selecting the location, tap on "Navigate" and your character will automatically start to head to the designated landmark
If the location that you chose is too far away, then your character will summon a gateway portal and navigate to the designated location while walking without any input from players.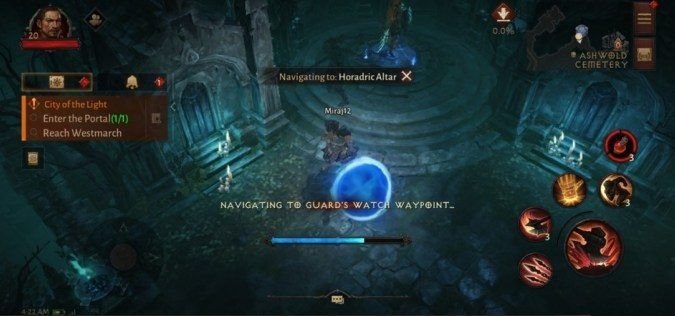 Navigate to a quest location
If you feel like leveling up your character by doing side-quests, auto-navigate can also be used as a way to travel to the quest location. Here's how to do it.
Select the quest objective section on the left side of the screen to bring up the quest menu.
Tap on the quest that you want to attempt.
Once you've done that, your character will automatically start navigating to the quest location, if it's too far away your character will open a portal to get there.
We hope that you enjoyed reading this article, stay tuned for more updates at Digistatement.