Steam features great support for PC games that can be enjoyed by many gamers in their full glory. Whether it be controller support, a community tab for discussing the issues of games, and lastly big picture mode that greatly enhances the gaming experience if you're playing on a television. While big picture mode is great for those who're playing on TV, gamers who have regular monitors find it frustrating as it's difficult to navigate around the menu.
Many have voiced their dissatisfaction that big picture mode ruins their gaming experience and if you're also looking for a way to disable it, we've come up with effective workarounds that'll prevent big picture mode from running when launching Steam. Read on more to know how to exit Steam big picture mode on PC.
About big picture mode.
Steam created the big picture mode for people who prefer playing games on the big television screen as it makes navigating to menus easier. Enabling this feature gives users an all-new user interface and makes the text readable on TV screens. Another great perk about big picture mode is that you can enjoy playing games from the comfort of your couch and don't have to sit close to the desk or in front of the computer.
How to disable big picture mode on Steam!
Exiting big picture mode on Steam can be troublesome if you're new to the application or if you're a long-time user, however, there's nothing to be concerned about as it can be easily done. With that being said, let's jump into the details about how to disable big picture mode in Steam.
On the home screen when the big picture mode is enabled, click on the Power icon right next to the time clock. Then click on minimize big picture or exit big picture mode.
If Steam automatically starts big picture mode every time you open the application, click on the "Settings" icon, and in the Display tab, click on "Interface" and uncheck the "Start steam in big picture mode" option.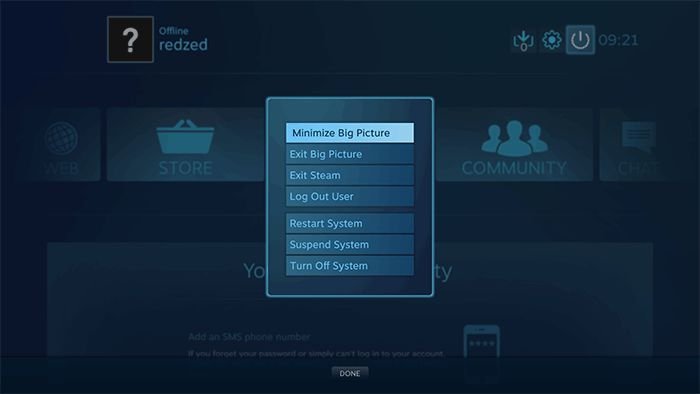 You can exit the big picture mode and the next time you launch the Steam application, it will revert back to its classic look. If you changed your mind and would like to turn on big picture mode, simply click on the icon right next to your user profile on the upper right side of the screen to enable it again.
Stay tuned for more updates at Digistatement.