Minecraft is full of a wide array of amazing modpacks. Modpacks are collections of code and mods that alter a player's Minecraft experience. Modpacks can include everything from new textures for specific items to entirely new entities in the game, as well as new biomes and game systems. There are plenty of modpacks you can try like the Pixelmon, Valhelsia. SkyFactory 4 and, RLCraft mod. One such amazing modpack is the Better Modpack. This modpack has 5 new dimensions to explore, dragon egg, proximity chat, and many other interesting features. In this blog, we have shown you how to download & install the Better Minecraft Modpack.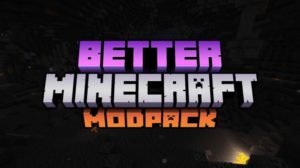 About Minecraft
Minecraft is known to be one of the famous and popular games among all age groups, all over the world. What makes Minecraft special is its gameplay. There is absolutely no restriction on the way you should play the game, it gives you full freedom. You can play the game at your pace.
The game is made up of objects which are called blocks. You can mine them and create your own structures with them. There is no achievement system, except 'advancement', which is present only in the Java edition of the game. As players explore the game environment, it becomes nearly endless and procedurally produced. Vertical mobility is limited, but on the horizontal plane, Minecraft enables an indefinitely huge gaming environment to be created.
How to Download & Install the Better Minecraft Modpack?
If you have previously played with the Vanilla mod of the game, we are pretty sure you are going to like this mod as well. It's just a better version of the Vanilla mod. Here are the steps to download and install the better Minecraft Modpack!
First of all, you will be needed to host a server on this modpack.

For this, you can go to the apex hosting where you can host any servers on Minecraft.

You can click on this link to first download the curse forge launcher with which you can install different modpacks.

Once on that link, click on download for windows.

Double click to open the file once the download has finished.

After following the on-screen instructions, it will open up in your browser.

Minimize the browser and click on the launch button on the screen.

Once open, choose Minecraft on the screen, and then it will download Minecraft to work along with it.

On the top, you will see a search bar, type in, better Minecraft, and hit the search button.

Click on the first option that shows up which says, 'Better Minecraft Forge'.

Installation of this modpack is going to take quite some while as it contains 212 mods.

After the install is completed, click on play.

It is going to take you to the Minecraft launcher where you would need to log in as usual with your details and you are all set with the new modpack in your game.
Enjoy with the better Minecraft modpack you just downloaded!