Update: Playstation Game Size Twitter page has revealed that the download size of Burning Shores DLC for Horizon Forbidden West will be 16.763 GB approximately.
🚨 Horizon Forbidden West: Burning Shores

🟨 Download Size : 16.763 GB

🟦 Release Date : April 19

🟥 #HorizonForbiddenWest pic.twitter.com/gM6tvfR1vm

— PlayStation Game Size (@PlaystationSize) April 16, 2023
---
Original post from April 16 follows below- 
Aloy continues her journey on the new Horizon Forbidden West DLC – Burning Shores. Developed by the Dutch video-game studio, Guerrilla Games, the Horizon franchise quickly cemented itself as one of Sony's flagship titles along with God of War and TLOU. Sequel to the 2017's Horizon Zero Dawn, Forbidden West came roaring into PlayStation 4 and 5 in February 2022. The game was an immediate success with both critics and fans praising it for its immersive visuals and intricate storyline. This positive reception led to a DLC announcement in last year's The Game Awards. Titled Burning Shores, the DLC has piqued the communities interest in many things like the story, new content, and even its size.
Taking place after the events of the first game, Horizon Forbidden West once again focuses on Aloy's story. This time she is on a new journey to an unknown and treacherous place called the Forbidden West. Eager to explore and find a source of the plague that's ravaging her native lands and restore GAIA. Guerrilla Games outdid themselves with Forbidden West and they are vying to do the same with its DLC – Burning Shores. So, how big will the DLC be? Let's find out!!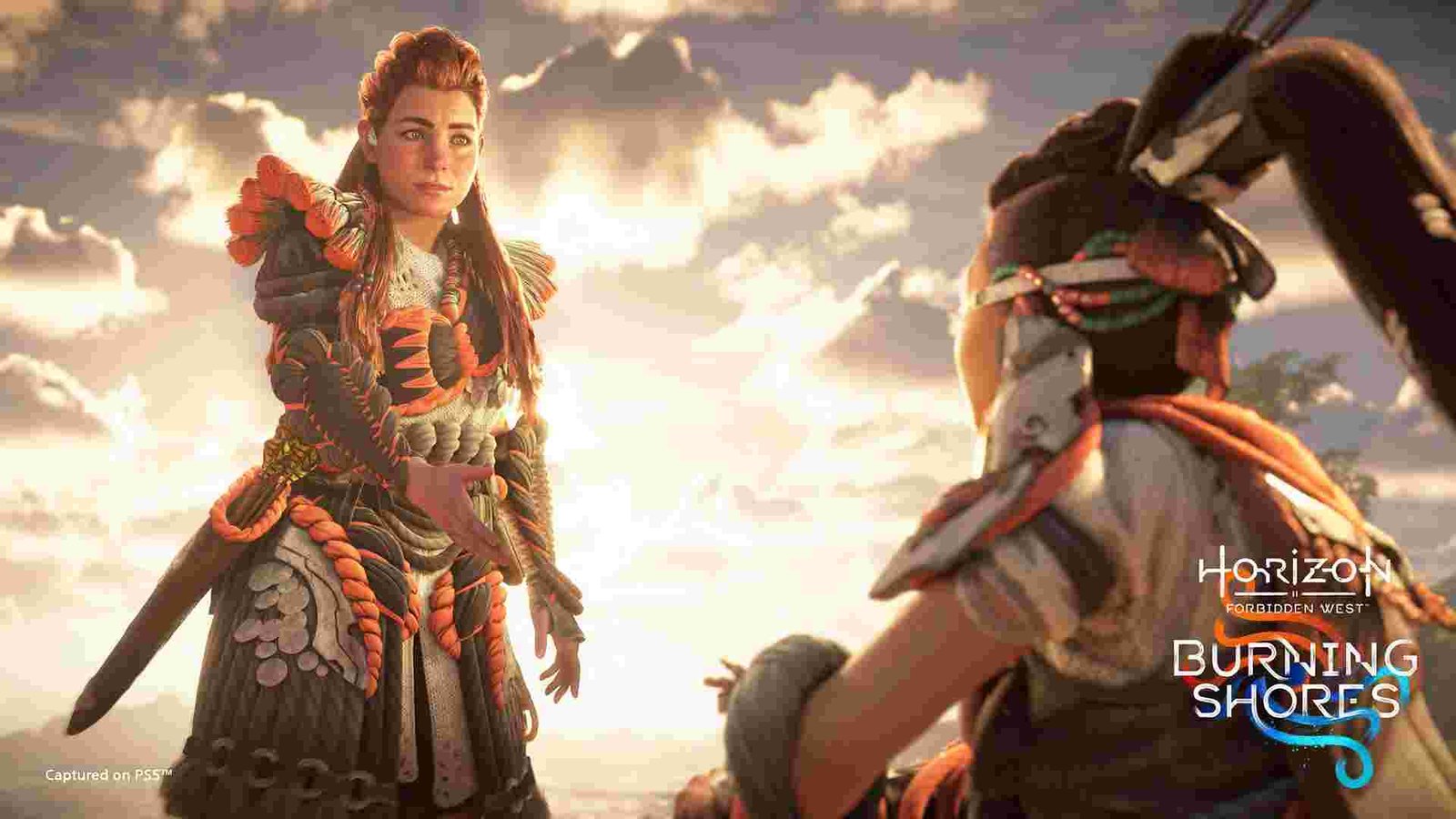 Horizon Forbidden West Burning Shores DLC Size on PS5: How much is it
Burning Shores takes Aloy to a new, unexplored, and dangerous place – Los Angeles. Transformed into a volcanic archipelago, Aloy will face tough challenges, and more sinister threats this time. As you can see, the DLC will offer a new world to explore, which eventually means the size will be big. Unfortunately, at this time we are still not sure how big the DLC size will be. Horizon Forbidden West itself takes around 90GB of storage space, so make sure to spare at least 15-25 GB on your PS5 for the Horizon Forbidden West Burning Shores DLC.
Sony already released launch trailers about the DLC on their official YouTube channel. Players do need to complete the main story, including Singularity, to start the DLC. If you haven't done so, go finish the main quest first. Burning Shores will be available for purchase for $19.99 and fans can already pre-order it on the official PlayStation store. Fans need to wait only a few more days, as Horizon Forbidden West Burning Shores DLC arrives on 19th April on the PlayStation 5.
Guerrilla Games did clarify that the reason they are only releasing the DLC on PS5 is due to the much better hardware. Since Burning Shores is more graphics intensive, the devs needed the capabilities of the PS5 to deliver an enjoyable experience, something which the PS4's outdated hardware couldn't handle. And since it's only coming to the PS5, the DLC size is expected to be quite big. Additionally, so far Guerrilla Games hasn't announced any plans for a possible PS4 release of this DLC. We will surely update this article with more information once we fetch it. Meanwhile, keep checking out DigiStatement to get the latest updates on everything related to gaming.
Related: Horizon Forbidden West: How to get high FPS & reduce input lag?