It has become a trend for newly-released video games to have bugs and errors. Hogwarts Legacy is no different because players are running into all sorts of issues. Recently, quite a few players reported that the game is crashing after the Seizure Warning screen. This is a very strange issue and has left all the players baffled. This issue triggers suddenly and the game crashes without any warning. Since most players don't know much about the error, they are simply waiting for the devs to roll out a hotfix. Anyways, if you are also looking for more information, then you have come to the right place.
Hogwarts Legacy is undoubtedly a beautiful game. It has everything that you expect from an open-world RPG. But, all these things don't matter if you are unable to launch the game and start exploring the place. Well, a lot of people are facing issues as the game suddenly crashes after displaying the seizure warning screen. If you didn't know, after launching Hogwarts Legacy, you will see a couple of warning screens. They are quite important because the game has a lot of visuals and other elements that can affect some players. But, these warning screens have become an issue as the game crashes after displaying them. So, is there any fix for this issue?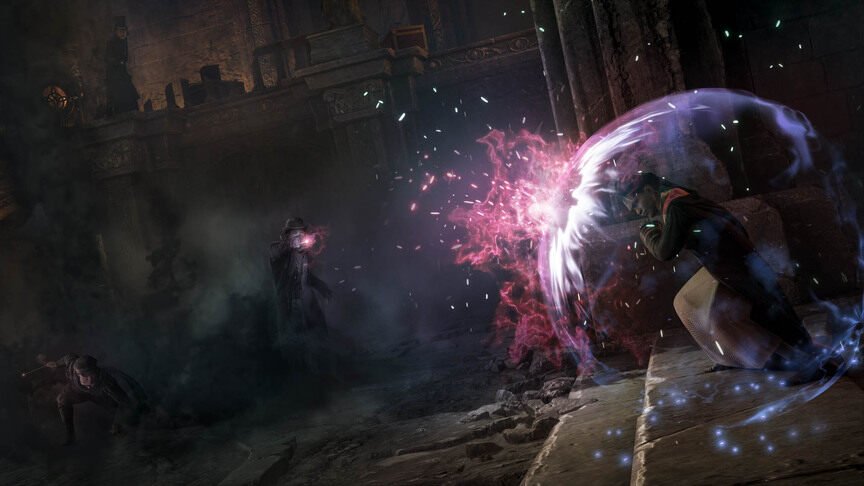 Hogwarts Legacy Crashing after Seizure Warning Screen Issue: How to fix it?
Unfortunately at the moment, there is no official fix for the "Crashing after Seizure Warning Screen" issue in Hogwarts Legacy. Though the issue is marked as under investigation in the official WB Forum, we don't have any expected release date for such a patch update. In the meantime, you can try the following troubleshooting tips and see if they work out for you.
1) Reboot your PC-
The first thing that you should do is reboot your PC. A lot of times, a bad system boot can trigger all sorts of issues while playing video games. Once you do so, try launching Hogwarts Legacy and check if the problem persists.
2) Update your GPU drivers-
Next, make sure that your GPU drivers are up to date. To check this, visit NVIDIA's or AMD's website and search for the latest driver version. If you find one, then make sure to download and install it on your PC.
3) Update your Windows-
Keeping your Windows up to date is also very important. Microsoft keeps adding new things to improve the OS' performance. So, make sure that you don't have an update pending before you start playing the game.
4) Verify the game files on Steam-
Corrupt or missing game files can also trigger a variety of issues in Hogwarts Legacy. But, you can verify the game files to repair and replace the bad ones. To do this, you will need to follow some simple instructions.
Launch the Steam Client.
Go to Library.
Right-click Hogwarts Legacy.
select Properties and head over to the Local Files tab.
Click on the Verify integrity of the game files option and wait for the process to complete.
5) Update Hogwarts Legacy-
Next, make sure that your game is up to date. Devs are rolling out new updates and patches almost every day to fix issues and further optimize the game. So, you must download and install any new updates that pop out.
6) Run the game as an administrator-
Sometimes, video games need additional permission to run properly on your PC. So, right-click Hogwarts Legacy's executable file and then click on the Run as Administrator option. Click Ok when your system asks for permission.
7) Reinstall Hogwarts Legacy on your PC-
Your next step should be reinstalling Hogwarts Legacy. Now, this is a long process. So, first, try all the other options and only then go for this.
8) Format your Windows-
Generally, we don't recommend players do this, but it looks like one person was able to resolve the Hogwarts Legacy Crashing after the Seizure Warning Screen issue by completely formatting Windows on their PC. So, if you have the technical knowledge, then you can also follow this method.
9) Tweak the GamerUserSettings file-
Now, one player has a method that might potentially fix this issue. To do this, press the Windows+R keys and type %localappdata%. Next, search for the Hogwarts Legacy folder and then open the Saved> Config folders. Now, open the WindowsNoEditor folder, and then the GamerUserSettings file. Next, copy and paste this code to this file and then save the changes-
UpScaleMode=NVIDIA_NIS
blsUpscaleModeModified=True
Now, try launching Hogwarts Legacy. This method seems to have worked for a couple of players. So, do give it a try. If nothing else works out, then your best bet is to wait for the official hotfix. This also brings us to the end of the article. Stay tuned to Digi Statement for further updates and gaming guides.